Posted by Mandy Spivey on Dec 18th 2018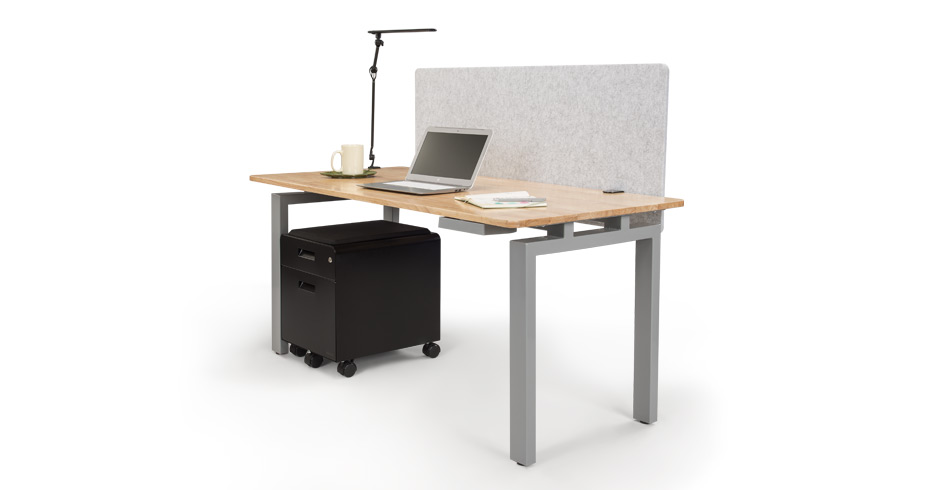 When you're building your dream workstation, it's important to consider all of the options. You might already know about height adjustable desks and their benefits, but what about side tables? Seated and standing-height side tables are designed to give you more space for casual storage for things like décor and personal items.
Having the proper amount of space for your body and work style is important to help you stay working in your Optimal Reach Zone. As a perfect companion to your height adjustable desks is the 29" Fixed Height Side Table by UPLIFT Desk. When you need a little extra room to sprawl, try a seated-height side table.
How to Work in Your Optimal Reach Zone
Having the right amount of storage space is important, but beyond storage cabinets and pedestals, what happens when you want to store more commonly-used items close by, but not necessarily on, your workstation? If you find yourself running short on space, a side table can be an apt solution to help you spread out a little bit, while keeping things placed ideally for ergonomics.
Working in your Optimal Reach Zone allows your body to stay within a neutral posture, which helps you keep pain, strain, and repetitive injuries at bay. Even if you don't think you work outside of your ORZ very often, it's likely that things like answering the phone and picking up documents force you to, whether you feel any strain while you're making these motions or not. To show you just how easy it is to work outside of this preferred area, let's talk about a common scenario in most offices today.
Paul works in an office. He has an collection of reference materials and books that he accesses daily for work, which are placed just above his head and out of reach in his cubicle. In order for Paul to grab them, he has to awkwardly make a half-stand posture, and extend his arm past a point that's comfortable. After working at his job for a few months of work, Paul begins to notice his shoulders and neck hurt a lot more than they used to, and he's starting to develop a soreness in his elbow.
What's Paul doesn't realize he's doing is working outside of his Optimal Reach Zone on a daily basis. By forcing his body to be in a posture that feels unnatural, even for brief moments, he puts his body under strain. Add the weight of his books and it's even worse.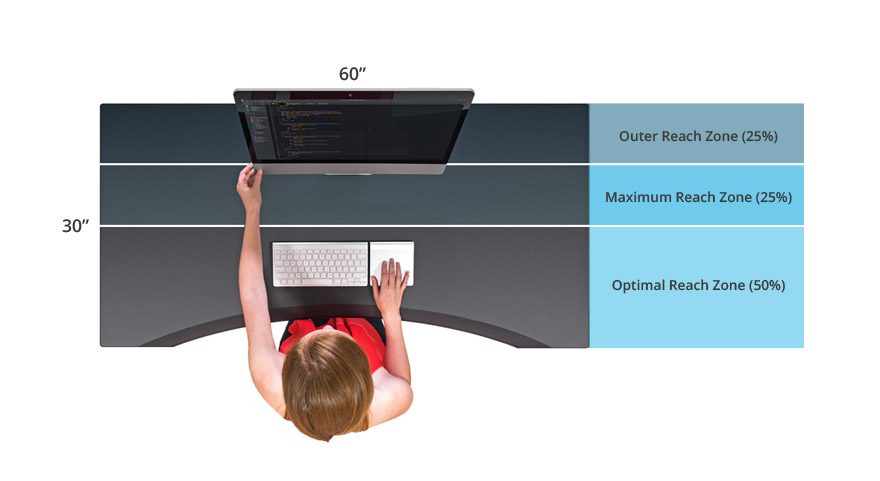 That's why it's crucial to set up your workstation so that little motions don't add up like this over time. Giving yourself a side table helps you do this easily, and in style.
Four-Leg Fixed-Height Frames That Match UPLIFT Desk Height Adjustable Frames
Starting from the base, a 4-leg side table allows you to create a sturdy and reliable side table that matches the three-stage frame of your UPLIFT Desk. This makes building your desk even easier. Instead of having to piece together a table that somewhat matches your UPLIFT Desk workstation, your legs can truly sport that unified look that gives your office a stylish and professional apprearance your coworkers will love.
Attach a 1" desktop on top and it's at the perfect seated height for users at 29 inches. You'll be able to keep accessories and décor that you need within easy reach and off of your work area. Stay seated and roll over to your things and keep your posture.
Install casters to your frame to make it easily portable throughout your workstation in the office, perfect for those office re-arrangers out there.
Desktop Styles to Match Your UPLIFT Desk
And at the top of your side table, you'll be able to choose the desktop style that perfectly matches your UPLIFT Desk. We offer you all of the same frame and desktop options to complement you desk from top to bottom. Desktop options include bamboo, rubberwood, whiteboard, and even solid wood tabletop options to complement your style. Build the luxurious seated-only table that helps you complete your workspace in just a few clicks.
Let us help you. We are here 6 days a week to assist you in designing the office space that helps you stay healthy.