Posted by Mandy Spivey on Sep 27th 2018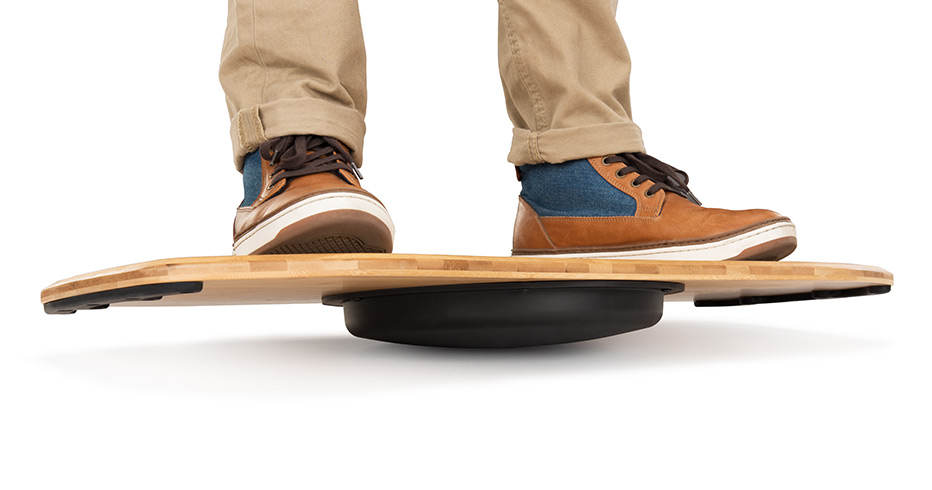 Made from eco-friendly bamboo that has been sustainably sourced from forests in Thailand and China, the Bamboo Motion-X Board is one our newest balance board offerings to add to the motion and exercise accessories we have. Made from fast-growing grass, this Moso bamboo is the same bamboo that UPLIFT Desk uses in their Bamboo Desk, Bamboo Keyboard Tray, and Bamboo Desk Organizer Set, making it ideal if you like to match your decor, all the way down to your balance board.
Our team was excited to try out the early designs of the Motion-X, and now that we have them in stock, almost every person has one at their workstation. In the short time we've gotten to know the floor accessory, we've figured out some pretty awesome ways the board boosts your workday.
Five Ways the Bamboo Motion-X Board by UPLIFT Desk Boosts Your Workday:
It's even better for your body than simply standing in place - Standing in place is great, but moving while you are on your feet is even better. When you want to boost your circulation and even burn a few extra calories, this board makes it possible via tilting, rocking, and balancing motions.
Rubber bumpers make it safe for people and their workstations - Flip over the Bamboo Motion-X Board and check out its rubber bumpers. The designers at UPLIFT Desk added these under-board accessories to help you balance safely, and if you do bump into a person or an object, the bumpers make sure the contact is safe.
Its rubber dome base is more comfortable to stand on than boards made with metal bases - If you're a fan of balance boards made out of real wood and bamboo, you'll love the energizing movement you get on this board. One unique feature to UPLIFT Desk's board, however, is its rubber dome base, which allows you to stand comfortably, even more so than boards with hard metal bases.
You get even more anti-fatigue protection when you install the Comfort Mat - Add the 9mm thick Comfort Mat to the top of your board for an extra layer of standing support. It also helps you stay comfy on the board for longer periods of time, adapting it for long-term standing sessions when you feel like being on your feet for a while.
This eco-friendly board is made our of fast-growing grass via sustainable methods - We love the Bamboo Motion-X Board because it's beautifully handcrafted from genuine bamboo, which is harvested from eco-conscious sources in East Asia. Bamboo gives you the look of real wood for a fraction of the price, and you don't even have to cut down a new tree to get it.
You can buy the Bamboo Motion-X Board by itself, or if you're looking to build the entire ergonomic setup, it's free with the purchase of an UPLIFT Desk. Build your dream desk and then simply select the board on the promotional slide to add this free promotional item to your cart.