The Large Bamboo Keyboard Tray by UPLIFT Desk gives users a desk accessory that perfectly blends the best parts of eco-friendliness and ergonomics. Match your keyboard tray to your bamboo desk with this beautiful desk addition.
The keyboard tray/mouse platform combo works by way of an easy-to-use lift, release, and lock height adjustment mechanism. This gives you all the height you need to keep you comfortable while typing, up to 8 inches of height adjustments. A wheel tilt adjustment lets users fine-tune their level of tilt and comes with easy-to-view height and tilt indicators.
A wide bamboo platform provides plenty of space for both keyboard and mouse. The foam pad mousing area and sliding mouse catcher on the same surface can switch sides for easy ambidextrous mousing, making it ideal for shared workstations or users who like to navigate with both hands.
The whole tray is easily installed under your current desk with two included tracks; this one simple desk addition will give you much more room to work on your desktop.
Searching for a keyboard tray with a separate mouse platform? Try the Switch Keyboard Tray by UPLIFT Desk, which features a mousing platform that can be moved from the right side to the left side of the keyboard tray.
Still need help deciding which keyboard tray by UPLIFT Desk is best? Take a look at our Keyboard Tray Comparison Chart (PDF).
Features
Tray is constructed out of beautiful and sustainable bamboo
Lift-and-release height adjustment mechanism gives users 8" of adjustment sans levers or knobs
Smooth wheel tilt adjustment allows for both negative and positive platform tilt
Seamless adjustments via easy-to-read height and tilt indicators
Standard 21" track allows for full retraction under desk, comes with an 11" track included for limited depth desks
Easy storage with 360 degrees of rear swivel
Large, 27" wide keyboard platform holds both keyboard and mouse
Comes with a removable foam palm support
American-made durable steel track, mechanism, and slim bamboo platform meet or exceed ANSI/ BIFMA standards
This accessory is also compatible with non-UPLIFT desks
Specifications
| | |
| --- | --- |
| Platform dimensions | 27" W x 11.5" D x 0.25" H |
| Mousing surface dimensions | 8.25" diameter |
| Height adjustment | 8" total (3" above track to 5" below) |
| Tilt adjustment | 20 degrees negative to 10 degrees positive |
| Track lengths | 21" L (standard) and 11" L (for limited depth) |
| Swivel at mechanism | 360 degrees |
| Weight limit | 10 lb |
| Warranty | 5 years |
| Shipping dimensions | 14" W x 28" D x 6" H, 18 lb |
F.A.Q.
How is bamboo eco-friendly?

We love bamboo because it's super sustainable for the environment and one of the fastest regenerating wood materials on earth, growing up to 39 inches in a single day. We responsibly source our premium bamboo from around the world, curing it with a solvent-free finish that keeps your keyboard tray protected for years of work without bringing chemicals into your work area.

Which keyboard tray is right for me, the Large Bamboo, Large, or the Switch?

While some customers enjoy having a separate platform for their mouse pad like the Switch Keyboard Tray provides, we've found that most work just fine on the single surface provided by the Large Keyboard Tray and Large Bamboo Keyboard Tray. It comes down to your personal preference but if you like to match your woods or just want a beautiful keyboard tray with a single surface for typing and mousing, this is the desk addition you've been waiting for.

I have limited depth under my desk. Will this still work?

The Large Bamboo Keyboard Tray by UPLIFT Desk comes standard with 11" and 21" tracks. If you only have space to install the 11" track but still want to store your keyboard tray under your desk, the tray can be rotated a full 360 degrees. Another great option is to add a track spacer to your setup.

What's a track spacer? Do I need one?

Using a track spacer allows you to fully stow your keyboard tray under your desk without it interfering with the desk's crossbar. Here is an informative video explaining the track spacer.

Does this keyboard tray raise above my desktop?

The Large Bamboo Keyboard Tray by UPLIFT Desk will raise up to three inches above its track. If you have the track mounted directly under your desktop, it should raise just above the desktop's surface. Using a track spacer will drop your keyboard tray down about two inches, so it would probably only come to be level with your desktop, or just slightly below it.

I installed my keyboard tray and I can't get the tray to lower. Is something wrong?

Probably not! If you installed your tray and it isn't lowering, you may have forgotten to remove the shipping pin. For instructions on how to remove it, read step four of your installation guide. You will just need to lift up on the front of the tray and lower the back to relieve pressure from the shipping pin. The pin will then be easy to remove.

What are the dimensions of the platform?

The Large Bamboo Keyboard Tray platform measures 27" wide by 11.5" deep by 0.25" thick.

Is the keyboard tray compatible with a desk that has a lip on the front?

As long as you have enough space to mount an 11" or 21" track and the front lip is not so thick as to set your keyboard tray too far back, then you should be able to install this keyboard tray without issues. As always, you can call and talk to our Sales Pros about the specifics of your desk to double-check that the keyboard tray will work for your configuration.

How should I care for my keyboard tray?

The Large Bamboo Keyboard Tray can be easily cleaned with a wipe or spray disinfectant. That will keep your keyboard tray free of germs and looking great. Just be sure to not leave liquids sitting on the platform as this can damage the finish on the bamboo.

Can I use this with other desks?

Yes, this accessory is compatible with UPLIFT and non-UPLIFT desks.
Track Spacer
The Track Spacer by UPLIFT Desk allows you to mount your keyboard tray track over the crossbars under your desk, giving you more flexibility in positioning accessories, especially on smaller desks. If your desk is only 24 inches deep, this will allow you to place the 22" track over the crossbars so you can stow the keyboard tray completely underneath the desk.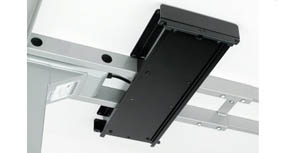 UPLIFT Corner Sleeve
Add an UPLIFT Corner Sleeve to solve the issues of limited depth when trying to install a keyboard tray on the right angle of an L-shaped or corner desk. This low profile mount is available in two different models to attach to work surfaces 1" - 2.5" thick, and is compatible with all UPLIFT keyboard tray tracks.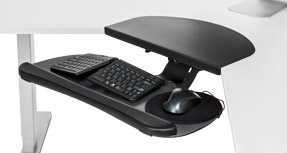 Goldtouch Ergonomic Keyboard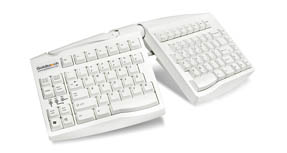 Expedited Production
Get your accessories shipped to you quicker by adding our expedited production option.
Order your desk by 3 pm Central on a business day and we guarantee your order will ship the same day. If placed after this time, your desk is guaranteed to ship the following business day.
If your selected item is not in stock, it will ship per the above guidelines as soon as it arrives.
This product comes standard with a 5-year warranty.
Return Information
We offer a 30-day trial on all single-item UPLIFT Desk brand orders, with the exception of solid wood and custom laminate desktops. If for any reason you're not satisfied, return the item with no outbound shipping or restocking fees.
Return windows close 30 days after you receive your item. You are responsible for obtaining a Return Merchandise Authorization (RMA) within this time.
All items must be disassembled and returned in "Like new" condition in their original factory packaging. Items not returned in this condition may be subject to additional fees. You are responsible for return shipping costs.
To start a return, or to view the full returns policy, click here.