Posted by Mandy Spivey on Sep 29th 2018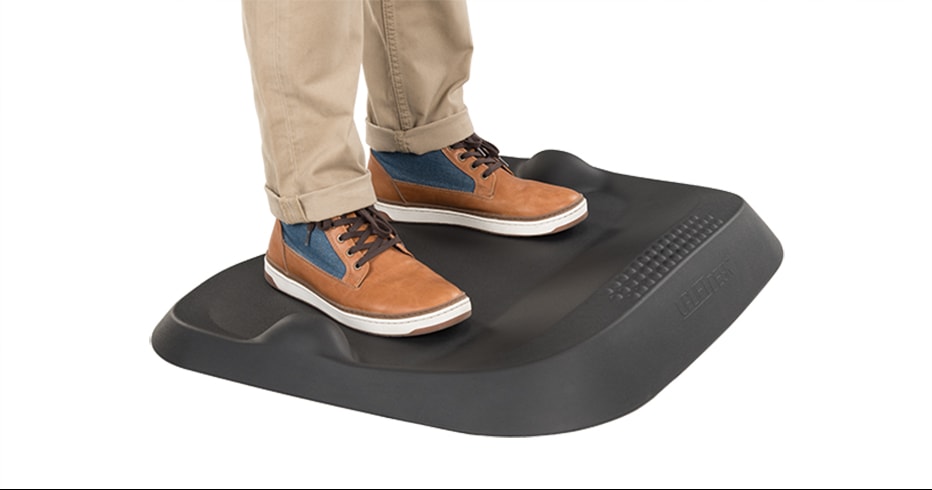 Make the best workstation with your small space. If you work in an open office, shared space, cubicle, or work area with less-than-ideal space, you also deserve to stand with the right balance of engagement and support. If you want to try the E7 Active Anti-Fatigue Mat but don't have enough space, we recommend trying out the E7 Small Active Anti-Fatigue Mat by UPLIFT Desk, the perfect addition to, how shall we say, "spatially-challenged" workstations that want an active standing experience.
The Features
Size: Small
Let's start with the Small E7's size; measuring it at 25.1" wide x 21.4" deep x 3.1" thick at thickest point, this standing mat easily fits in more spaces than full-sized mats. Constructed from the same high-density core as our other standing mats, so you know you're getting comprehensive anti-fatigue standing support that allows you to remain on your feet more comfortably, for longer periods of time.
Terrain: Multidimensional
Take a look at the upper surface of this mat. It's multidimensional terrain lets you target and stretch muscles in your legs, ankles, and feet, thanks to ridges and mounds on its surface. Give your legs a break on the rest bar, which lets you stretch your legs as you stand at your sit-stand desk. Or if when you feel like relaxing, go ahead and massage the soles of your feet on the outer edges of your mat on the massage mounds. A blend between comfort + activity, the Small E7 gives you more options for your standing posture than ever before.
Storing: Seamless via Heel Grab
UPLIFT Desk's designers added a unique feature that helps users store the mat - an easy-to-use heel grab. This feature means you don't have to stop work or bend awkwardly to move this mat out of the way. What is included to help you store your mat also encourages you to use the mat more and makes it more efficient when switching from sitting to standing throughout the day at your workstation.
If your office lacks usable floor space but you want an active mat, you can purchase the E7 Small Active Anti-Fatigue Mat by UPLIFT Desk solo, or buy it with an UPLIFT Desk for a discounted price! Read more about ergonomic products made to help you maintain a healthy lifestyle at work and at home on the Human Solution blog!