Posted by Human Solution on Dec 15th 2016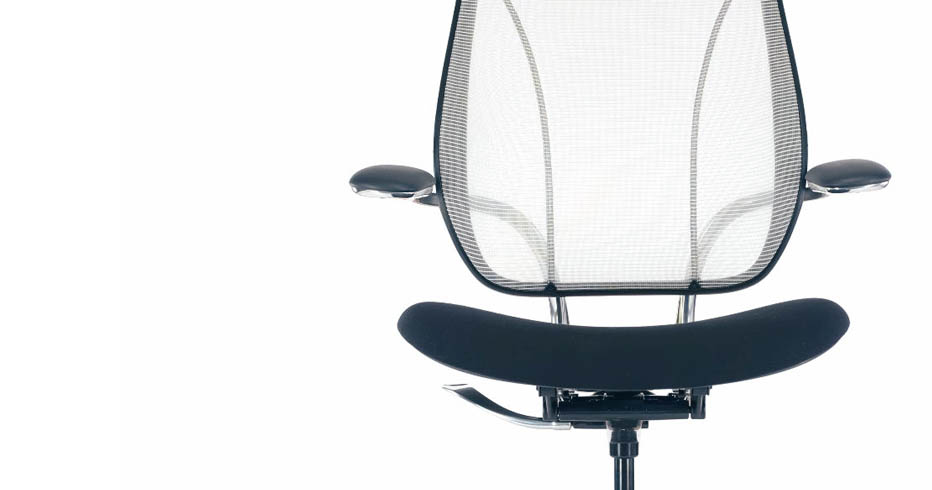 We offer a lot of different ergonomic chairs here at Human Solution. When speaking to people about chairs every day, I find that many of our customers are often looking for modern office chairs that offer great back support and are easy to use and adjust. If that's what you're looking for, let me point you to the Humanscale Liberty Chair.
The one-of-a-kind Liberty Chair seamlessly blends elegant, progressive style with state-of-the-art ergonomic technology. Unlike many ergonomic chairs, the Liberty Chair offers excellent back support without the need for a lot of locks and levers. This is an easy-to-use and incredibly intuitive chair that looks sharp and will keep you feeling comfortable and healthy all day.
The Liberty Chair doesn't require a lot of adjustments to offer excellent comfort. The chair's flexible mesh back forms to your shape and movements to offer custom back support and promote good posture. The chair's flexible mesh really hugs your lower back, offering strong and self-adjusting lumbar support, which keeps painful issues like lower back sagging from cropping up. The mesh back also features a self-adjusting recline system, which automatically adjusts to your weight and movements to offer the right amount of resistance as you lean back. This means it's easy to go from an upright to a relaxed leaned back position with the Liberty, which will keep you feeling more comfortable and relaxed throughout the day.
The popular Liberty Chair is the brainchild of award-winning designer Neils Diffrient, and it's heralded as one of his top achievements. Diffrient's inspiration when designing the Liberty was the tailored shirt – it's simple, functional, comfortable, and it fits the user perfectly.
The Liberty's form-sensing mesh back is a great design achievement in function and style, but the Liberty's great features don't end there. The chair's seat cushion is mildly contoured and sculpted to match the user's body and to reduce impact on pressure points. Humanscale offers two comfortable options for the seat padding – double foam padding or a gel seat cushion. Both offer long-term comfort, and the gel provides maximum pressure distribution and has been proven to help reduce a notable amount of stress on the back while sitting.
There are also a few options on the Liberty Chair's armrests. The chair is available with fixed arms, or height adjustable arms. We recommend the highly adjustable arms, which offer five inches of height adjustment and help relieve strain on your shoulders by supporting your arms no matter your position.
The Liberty Chair is also available in a number of mesh and seat fabric colors. You can go with something traditional, like black mesh on black fabric or leather, or opt for something a little more eye-popping. The Liberty is truly a striking, comfortable and highly configurable ergonomic seating solution.