Posted by Human Solution on Nov 11th 2016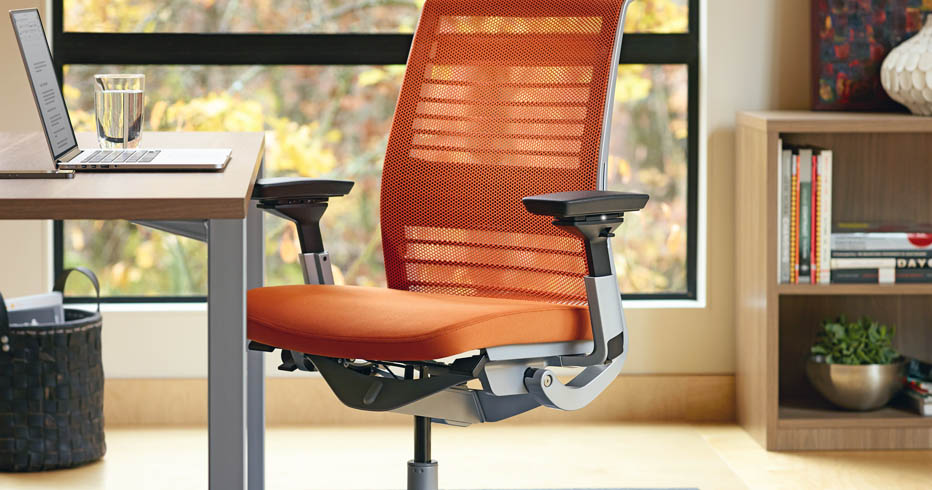 Many people find themselves opting for flexibility and options in a sleek and modern package when it comes to ergononomic products, so it should be no suprise that one of our more popular options is the Steelcase Think Chair. The Think Chair's distinct look, style and intuitive ergonomic features help place it above and beyond traditional office chairs. This comfortable ergonomic chair from Steelcase provides maximum sitting comfort and smooth, supportive padding. The Think Chair also features a striking contemporary profile, and the back of the chair is equally as stunning, showing off a number of stainless steel flexors that constitute the chair's back support system. These progressive design choices are aesthetically pleasing, but they also provide excellent ergonomic benefits. The seat padding's waterfall front edge angle helps relieve pressure under the user's thighs and legs regardless of their weight or position. Thanks to the aforementioned flexors, the chair's seat and back adjust dynamically with the user's movement, allowing for the front seat edge to flex up to one and a half inches. This helps the front edge of the seat reduce pressure on the back of the user's knees, which greatly increases comfort over long periods of time.
The Steelcase Think is designed to support users of all different sizes and sitting postures, and it meets these goals beautifully. It can be ordered with an adjustable lumbar support pad that slides up and down inside the chair's back, giving you firm, padded support for your lower back, just like the Amia Chair and Leap Chair. An optional headrest allows for vertical and horizontal adjustment too, providing support in both upright and reclined postures. The seat recline controls are also very intuitive. The seat can be locked in an upright position, allowing for halfway or full recline via weight activation. It can also provide full recline with a resistance-boosted setting, ensuring that the chair back is always supporting you even as it gives way to reclining.
The options don't end there. Not only does the Think Chair adequately support individuals with larger frames, but it can easily be adjusted to fit petite users as well. In addition to basic height adjustment, the seat depth is easily adjustable to accommodate various leg lengths, and the arms are exceptionally flexible. Many people like to keep their mouse and keyboard within close reach to avoid strain, and it's important to have chair arms that adjust so they're exactly where you need them while typing. Whereas most chair arms will only adjust up and down (if at all), the Think Chair's arm rests allow for height, depth and width adjustment, while also being able to pivot 30 degrees inward or outward. No matter how you sit at your desk, the Think Chair's arms will adapt to your needs.
Of course, no matter how adjustable and well-designed a chair is, if it isn't made of a comfortable material, the chances are that you'll grow tired of it eventually. Fortunately, the Think Chair comes in many different colors and fabric types. Want the luxury of leather? Steelcase's Elmosoft leather offers world-class softness. Prefer a breezy mesh? The Think comes in a mesh–back variant with a soft, padded 3D knit mesh back as well. The 3D knit back is especially notable as it's exceptionally plush for mesh, while still retaining that firmer support mesh chair users have come to know and love. Plus, it looks incredible layered over the Think's steel flexors.
No matter what fabric and color you choose, you can rest assured that your chair is as good for the environment as it is for your back. The Think Chair has earned the Silver Cradle to Cradle certification, the SCS Indoor Advantage designation for indoor air quality, and is up to 98% recyclable by weight.
If you have any questions or still having difficulty deciding what will work best for you and your workplace, feel free to call us at 800-531-3746, chat with us, or email us at info@humansolution.com, and we'll be more than happy to help you pick out the best seats in the house (or office).