Posted by Human Solution on Mar 3rd 2016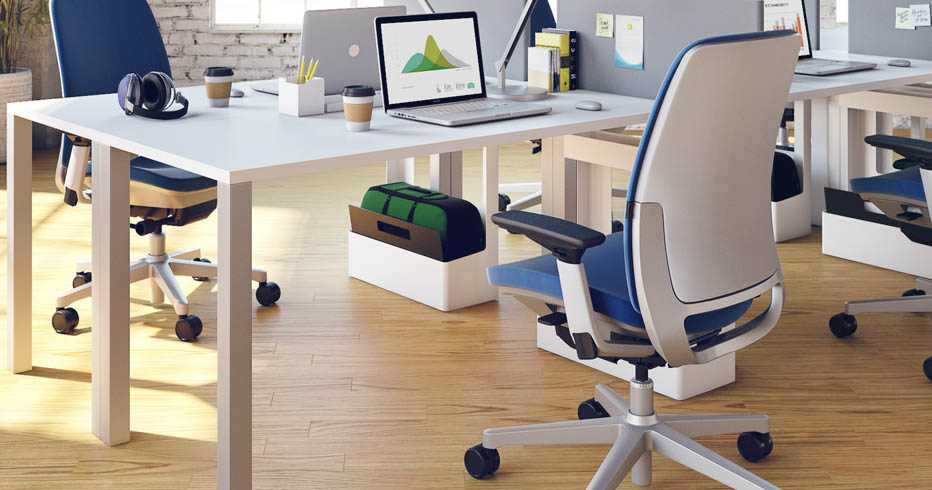 We hear it all the time. People call us and say, "I'm about five feet tall and I need a chair that will be comfortable for me, because most chairs just feel too big."
Many office chairs aren't designed with the petite user in mind, which means that a shorter person may be sitting in a seat that's too large, with arms that are too wide and a seat height that leaves their feet dangling above the floor. Luckily, we can point you to a great selection of petite ergonomic chairs.
One of our overall favorite chairs is the Steelcase Amia, and it's a particularly great chair for petite people. The seat slider offers a good range of depth adjustment, and the seat height goes down to 15.5 inches. The arms on this chair are also really great. They go really low, pivot in and out, and they slide closer on each side up to two inches. In most office chairs, I feel like my arms are sticking way too far out to the sides, so it's nice to be able to pull the Amia chair's armrests in so that my arms are in a more natural position.
A great budget-friendly mesh chair for petite users is the Office Master Yes Mesh YS72 chair. The lowest seat height on this chair is 17 inches with the standard cylinder, but there is the option to swap the standard 5 inch cylinder with a 3 inch cylinder, which will lower the seat height even more.
If you're not interested in a mesh back chair, the Via Riva Ergonomic Task Chair is another great customizable petite chair at a lower cost. You can build this chair with a small seat, and the seat lowers to 16.5 inches. You have three seat mechanisms to choose from that will let you upgrade the chair to include a seat slider, tilt, and back height adjustment.
If you're looking for a petite chair built to your exact needs, look no further than the BodyBilt 2407 High Back Petite Executive Chair. This chair is highly customizable, so you're sure to find a configuration that's perfect for you. The standard chair height cylinder on this one goes down to 16.5 inches, but a short cylinder can be substituted to bring the seat down to 14.25 inches.
If you like your current chair, but you find that it's just a bit too tall, a foot rest might be what you need. Using a footrest is healthier and more comfortable than having your feet dangling above the floor or angling your legs backward so your feet rest on the base of your chair.
Learn more about ergonomic office furniture at TheHumanSolution.com.