Posted by Human Solution on Feb 15th 2017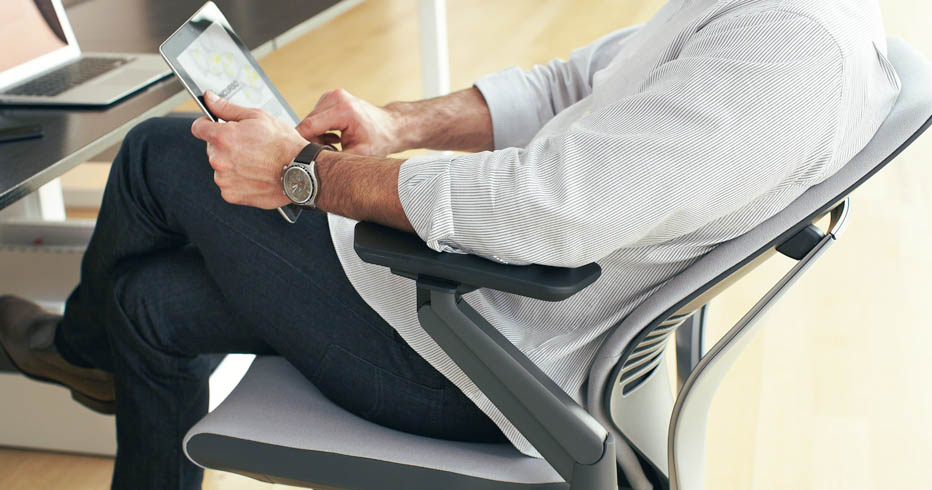 If you are a very tall person, or even just a little taller than average, there is no doubt that you have experienced the discomfort and lack of support that comes from sitting all day in a one size fits all office chair. You can adjust one of those cookie-cutter, big-box office store chairs only so high, after all, and if it's not high enough, you have no real options for getting comfortable. We offer a large selection of chairs that work well for tall or very tall users. We even have a whole section on our website with recommended chairs for tall people, however, to get you started; I've compiled this list of four recommended chairs that work great for taller users.
The Ergonomic Chair for the Mobile Generation
Though it may not be classified specifically as a "tall" chair, the Steelcase Gesture Chair is the chair that's so versatile, this could probably be featured on just about any list of the "best" ergo chairs for specific situations. The arm rests are some of the most adjustable I've ever seen; they can be widened to 22.5" wide, and at their tallest point, they are nearly 10" above the seat cushion. The Steelcase Gesture can also be ordered with a taller cylinder option, which will allow the user to raise the seat up to 22.5", and it comes standard with a seat slider to increase the seat depth for longer legs. This chair is so flexible, users of almost any height can easily find a comfortable position whether working on a PC, tablet, phone or other device.
The Cadillac of Chairs
For the height in customization and comfort, check out the BodyBilt Extra Tall "Stretch" Chair, either with a headrest or not. Either way, you'll get an extra high backrest for maximum support, an extra long seat pan and a tall cylinder, with over 5" of height adjustment. If you do decide to add a headrest, the unique and highly adjustable "Fore-aft neckroll" offers two pivot points to adjust the angle and a 4" height range. You can even flip this headrest out of the way when you don't want to use it. As with all BodyBilt chairs, the Extra Tall "Stretch" edition can be ordered with a host of customizable ergonomic features, like an extra layer of memory foam on the seat and back cushions and multiple options for the lumbar support and arm rests. When you order a BodyBilt chair, you are getting top of the line comfort and customization, built just for you.
The Tall Chair on a Budget
Need something with customizable options for a tall user, but also need to stay within a budget? Several chairs available by ergoCentric can be configured with "tall" options. The ergoCentric airCentric and myCentric chairs can be ordered with customized features like an extra long seat and a taller cylinder for seat height adjustment. The ergoCentric geoCentric has either an extra tall or an extra high backrest option, with additional neck support. You can even add additional air lumbar support, which is adjustable. Even with all of the added "tall" features, these ergoCentric chairs come in at a price point that is about half what you'll pay for many other ergonomic chairs.
The Most Popular
Like the Gesture chair, the Ergohuman chair is not specifically classified as a "tall" chair. However, with a seat that can be adjusted as high as about 23" and an adjustable seat depth, this chair easily accommodates a taller than average user as is. The Ergohuman chair is available upholstered in either mesh or leather, or you can choose a leather seat and mesh back. Finally, choose whether you want a headrest or not, and you're done. The Ergohuman chair is one of the most popular ergonomic chairs in the world, a favorite of large businesses, government agencies and home office users alike.
For many more ergonomic chair recommendations, visit us at TheHumanSolution.com!