This product is currently available for pre-order only. Expected to ship in October.
Remember when the Kindergarten version of you hadn't quite mastered the art of witty retorts so you fell back on a canned one? You probably used the "I'm rubber, you're glue" rhyme at least once or twice in these situations, if not more. Rubber may not sound like the most durable of materials but you sure thought it was tough when you were younger. It turns out your younger self was actually kind of right. Latex rubber is produced from the sap of the Hevea tree, also known as the rubber tree or rubber plant, and is used to make all sorts of products. Its ability to take a hit and bounce back is pretty impressive as far as materials go. Sadly, rubber trees only produce the sap for a limited number of years. Around the ages of 25-30 their production decreases drastically. So what happens to the noble rubber tree at the end of its rubber producing cycle? Well it turns out that the trees themselves are actually comprised of a very sturdy hardwood - rubberwood - and when you have such great crafting material, why let it go to waste?
At UPLIFT Desk, the retired rubber trees have a second life as a desktop with a unique aesthetic. That's right. After a lifetime of producing everything from balloons to hot water bottles, the rubber tree can now spend its retirement as a beautiful addition to your office décor. The grains of rubberwood tend to be very mild but there's enough variation to give the desktop a very interesting but subtly rustic look. Aside from the visual appeal, rubberwood is also super sturdy and the trees themselves grow relatively quickly, making these one of the more sustainable desktops on the market today.
Of course, we'll be putting this unique desktop on one of our three-stage UPLIFT frames so not only will you be able to sit and work, you'll also be able to stand at will to relieve any fatigue or loss of focus brought on by sitting. And with 355 pounds of lifting capacity, the UPLIFT Rubberwood Solid Wood Sit-Stand Desk can accommodate a wide range of workspace needs. The pricing for one of our Rubberwood Solid Wood Desks starts at $724, which is a little more than one of our laminate or bamboo tops but it's well worth it for durability and a solid wood look. As always if your interest is piqued and you have more questions, don't hesitate to contact our team at 800-531-3746 for all the answers and all of the great service you've come to expect!
In the day and age of large open offices it's easy to forget that most small businesses starting out don't have the kind of capital for that kind of space. These businesses end up taking up residence in small office with limited space and in some cases, built in furniture. There's nothing worse than being stuck with a desk [...] Read More »
I can't say I've ever been happy sitting in a chair all day. During college, working at my first company, and starting my own inbound marketing agency eight years ago, I've spent roughly 30% of my time over the past decade in front of a computer. My posture was slipping, I was uncomfortable, and at [...] Read More »
People have a thing for towers. We've been building them for years, mostly as an efficient way to get office space into cramped urban areas but also so architects can beef up their portfolios. Some notable towers include the Sears tower, the Eiffel tower, the Dark Tower, and of course the Two Towers from Lord of the Rings, because [...] Read More »
Everyone's all about collaboration these days with a few exceptions. No need to get into those, this isn't that kind of blog. But something this new focus has led to is the rise of the "open office" model. No cubicles, no walls, just a large room full of people who can freely communicate with each [...] Read More »
'Tis the season for hamburgers, hot dogs, colorful sky explosions, and shivering doggies that are not at all digging the aforementioned aerial detonations. It's interesting to think that this holiday that America celebrates every year is the product of a few men and a new nation that decided to take a stand. Here at Human Solution, we're all about taking [...] Read More »
It seems like only a month since we celebrated a parent. And it was so nice we're doing it twice with the impending arrival of Father's Day. We still love Mom lots but this weekend Daddy gets a day to shine. And by shine I mean be showered in an abundance of gifts ranging from [...] Read More »
It's always a little jarring when you're at the office just typing away the day and all of a sudden you hear a stream of expletives followed by an "OH, GOD WHY?!?!?" Yup. Your generic hypothetical coworker just reaped the results of months of bad posture. We'll call him Steve. Steve is now clutching his [...] Read More »
Brace yourselves. Mother's Day is coming. The one day a year when Mommy collects her dues. Some pay up with a card lovingly crafted out of macaroni and glitter. However, those outside of grade school may want to consider something with a little more longevity. Luckily we come bearing suggestions for gifts that may very [...] Read More »
Finding an ergonomic office chair on a budget is a challenge. Frequently we get customers looking for chairs in the $200-$300 range and, while those do exist, they are all too frequently far from top-of-the-line. But thanks to recent updates to our repertoire of office furniture, your search for a fantastic budget chair solution could land you in the [...] Read More »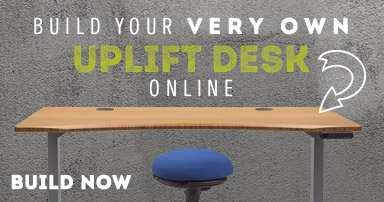 Interested in ergonomics?
Subscribe to our blog mailing list