Posted by Ulf Lonegren on Aug 31st 2017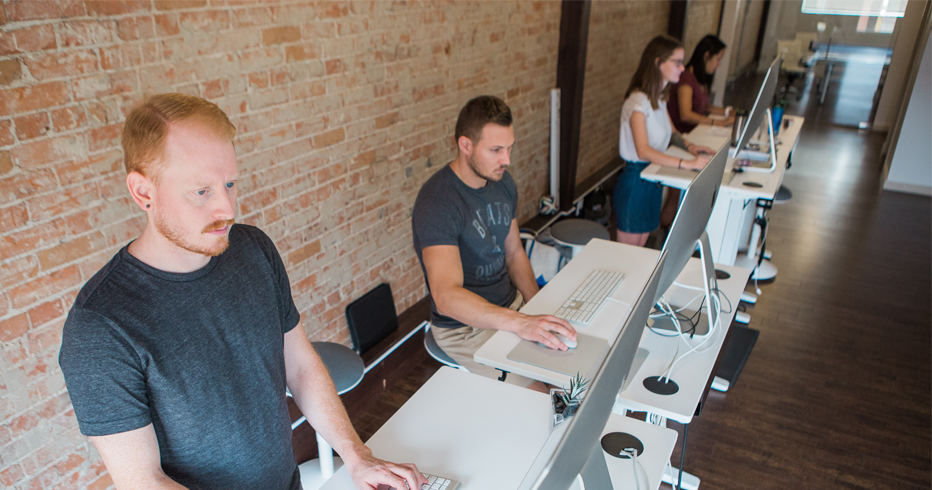 I can't say I've ever been happy sitting in a chair all day. During college, working at my first company, and starting my own inbound marketing agency eight years ago, I've spent roughly 30% of my time over the past decade in front of a computer. My posture was slipping, I was uncomfortable, and at the end of the day my back always felt sore and stiff.
Over the years I've tried many things to remedy this problem. I tried sitting on a yoga ball, using a kneeling chair, your typical ergonomic chairs, and even building my own standing desk using the "Ikea standing desk hack" method. The main takeaway from all of this effort is that there is no "ideal position" to maintain throughout the course of a full day. Whether sitting, standing, or kneeling, if I didn't take breaks or regularly change my position, I was sure to be in some sort of pain by the end of the day.
I had heard of sit-stand desks and even checked them out online, but when I originally did my research they were incredibly expensive. I was interested in the concept, but it just didn't make financial sense. Fast forward to Spring of 2017. I was standing all day at my makeshift Ikea standing desk hack, and while I preferred this to sitting all day, my shoulder was giving me some serious aches and pains. Something about the height of the desk and the position of my mousing arm was giving me grief. I'd seen a physio and a massage therapist, and it was clear no quick fix would resolve my issues.
My passion to find a solution was reignited and I started researching modern sit-stand desks. The more I learned about them, the more I was convinced this was what I needed. They promoted better health, better comfort, better productivity, more happiness at work, and improved the office culture in many workplaces.
I was hooked on the idea! But with a team of eight in the office, it wasn't just me I was shopping for. I knew it wouldn't bode well if I got a fancy new electric sit-stand desk for myself, and left the rest of our team in the dark days of static sitting. So if I was going to buy a new sit-stand desk, I would have to do it for the whole office. This was a big decision as it would be a significant investment, especially since our company was about to move to a new office and that involved many costs of its own.
I knew the first step was to convince my business partner, Chris, to get on board with the idea. Chris is 6'3, an active athlete, frequent gym goer, and overall health enthusiast. I've known him for a good portion of my life and given his active lifestyle I figured, "This will be an easy win!" Surely he would be on board with something that will impact his health in a positive way, all the while increasing the office morale. Chris was quick to respond, "No way. Those things are a trend, made for hipsters, and we don't need to spend money on an expensive novelty for the office." That didn't go as planned, so I went directly to Plan B.
I asked our staff directly, (in front of Chris), to see if the idea would catch. It did. Their eyes lit up and smiles appeared on their faces. They couldn't hide their joy at the idea of their current workstations being replaced with sit-stand desks. One of our developers, Maddie, looked up at me from her uncomfortable seat and said with genuine excitement, "That would be a dream!" Making hard eye contact with Chris I replied in a sly tone, "Why yes Maddie, I suppose it would." The seed had been planted.
Seeing how excited our staff was and not wanting to disappoint them, Chris reluctantly caved, and I started researching different sit-stand products and companies. It was a little overwhelming with all of the many different options that are now on the market, but I put the time in and made a list of the top ten. I evaluated each company & product based on the following criteria:
Location & shipping (needed to be able to guarantee shipping to Canada, within a specific timeframe)
Desk design & aesthetic
Quality of craftsmanship
Ratings & reviews
Price
Sizing & functionality options
Company's website (as an owner of an inbound marketing & creative agency, I have a hard time doing business with companies who don't invest in their own brands, so this is always an important factor in my decision making)
From here, I made a short list of the top three companies and reached out to each to inquire about their products in better detail. The last and most important grading metric was customer service. This was a big investment for our company and we needed to feel confident with the supplier we were going to be buying from.
UPLIFT Desk was by far the clear winner. Their website allowed us to completely customize our desks with ease, and they had terrific options such as cable management, desk mats, wire grommets, hidden trays for storage, and a desk height control panel that saves your presets (because we're not all the same height). They also offered desk surfaces in a 42" variety, which was very important to us in order to conserve space. Their pricing was very fair, and their products looked incredible. But the best part was the customer service. The sales manager made sure we had everything we needed and the product manager made himself completely responsible for the shipping of our order (shoutouts to Judy and Abraham). We needed these desks delivered within a very specific timeframe since we were moving offices, and it was important to eliminate as much downtime as possible. Overall the entire ordering and shipping process worked out perfectly, but it wasn't until we received our desks and started working on them that we noticed the real benefits.
Everyone was happier (yes, even Chris). It was clear to see in the first week that these desks were anything but a novelty. The whole team was really using them, standing up for over half the day. Rarely does anyone stay at any position for longer than thirty minutes without shifting the height of the desks. We're sitting, standing, leaning, kneeling, etc. For me personally, the upgrade has been a game changer. Where my back and shoulder used to give me immense pain after a day of work, both are now problem free. It only took about three weeks for my shoulder ache to completely disappear and it hasn't been back since (three months later). It's pretty hard to put into words the kind of relief this has given me, but just know I honestly haven't felt this good at work since before I had a job that involved being in front of a computer all day.
The improvement it's had on the overall office culture has been incredible as well. Our team has had nothing but great things to say about the new desks, and everyone agrees that the office energy seems warmer and more inviting. Approaching coworkers at their desks just seems easier now. Our minds feel fresher, our focus is stronger, and overall happiness with our workspaces has increased tenfold. When clients and new visitors come by our office it's not uncommon for them to bring up the desks the moment they notice people standing and working. It's even helped us with recruiting and differentiating ourselves as a forward-thinking employer. The new desks have been a hit in so many ways, and for me, it just feels good to know I won't be spending the remainder of my office life wasting away in a static seated position.