*Features currently only available on two-leg and three-leg frames
That mysterious black box that's hanging around on the underside of your UPLIFT Desk is kind of like a brain. And just like your brain, your UPLIFT Desk's brain can do all kinds of neat things. It can't quote Shakespeare or pontificate the meaning of life, but it doesn't need to. Because it's a desk. What it can do, though, is pretty amazing for a piece of furniture. In addition to remembering your favorite height settings, adjusting its own minimum and maximum heights, and relieving your sitting and/or standing woes, the UPLIFT Desk now has a couple more tricks up its sleeve.
If ever you've wished for your desk to be able to go from one-touch to constant-touch and vice versa, the newly updated UPLIFT Desk now has that very ability! For those who are less familiar with the UPLIFT Desk, "one touch" refers to the memory preset buttons of the Advanced Digital Memory Keypad. Once you find a height you like, you can save that height on one of four preset buttons. When the one-touch feature is active, you need only press the button and release once and the desk will automatically adjust to whatever height you have saved. When the "constant touch" feature is active, you'll need to hold the preset button down until the desk has fully adjusted to the saved height. Each one has its uses. The "one touch" feature focuses on convenience when adjusting your desk height, while the default setting is "constant touch", which helps avoid inadvertent desk movement. Now that we've cleared all of that up, here's how to switch between these two features:
Press and hold the DOWN button on the Handset (part 5) until the desk reaches its lowest height, then release the button.
Press and hold the DOWN button again until the display reads "RST".
Press the number 1 memory button for up to 5 seconds until the LED changes to either "10.1" (One Touch) or "10.2" (Constant-Touch), then release the button. The display will automatically switch back to "RST".
Finish the reset process by pressing and holding the DOWN button until the desk lowers a bit more, rises slightly, and stops. Release the DOWN button. The program is set.
There is one other new feature that a lot of people will find useful. Newer editions of the UPLIFT control box now have a "lockout" feature. Yes, if little Timmy at home or Rhonda at the office have issues with keeping their mitts to themselves, you now have the ability to put your desk on lockdown. And the best part is it's super easy. Here's how you go about it:
To lock the handset, press the "M" button for 5 seconds until the LED switches to "LOC".
To unlock the handset, press the "M" button for 5 seconds until the LED switches from "LOC" to the height display.
*Just a small heads up; if a power outage occurs, the handset on your desk will automatically reset to "unlock" as the default setting.
There are just a couple more things to note with these new features. Two-leg and three-leg desks should both have this feature in late July 2017. If you purchased a desk already and are interested in these new features, fear not! The new control boxes will be available for purchase shortly after the end of July. So if you want to upgrade your old control box to one with these features, you'll have the option to do so. Sadly though, the wait for these features on four-leg desks is going to be a bit longer. If you find yourself wanting to know more or if you have a question regarding any of our other ergonomic products, feel free to give us a call at 800-531-3746 or have a chat with one of our fine reps online!
If you've ever seen a rat's nest, it's kind of a hodge-podge of mess. A few bits of fur here, a few pieces of grass there, and all of it pulled together by a tasteful wad of mystery material that somehow through the power of rat magic is stronger than steel. It's impressive in its own way but aesthetically, [...] Read More »
I'm forty-years-old, a single father of four awesome kids, employed with a great company that treats me well, and have an amazing girlfriend. I have a lot for which to live. About two months ago, I was jogging on a trail in Maryland and just wanted to stop and walk. I knew, though, that the desire was not rooted in real [...] Read More »
New products and redesigns abound this year meaning a lot of new changes to some old fan favorites. The UPLIFT Desk laminates, for instance, are getting a bit of an overhaul. With their affordable pricing and gorgeous aesthetic, it's no surprise that they're one of our top selling configurations. The GREENGUARD laminates have been a [...] Read More »
This product is currently available for pre-order only. Expected to ship in early October. Everybody likes to have stuff. Stuff is why you work for however many hours a day. You make that money. And then you buy stuff. The problem with accruing stuff is that it has a tendency to take up space. If you have a lot [...] Read More »
This product is currently available for pre-order only. Expected to ship in October. Remember when the Kindergarten version of you hadn't quite mastered the art of witty retorts so you fell back on a canned one? You probably used the "I'm rubber, you're glue" rhyme at least once or twice in these situations, if not more. Rubber may not [...] Read More »
It's always nice to get a shout out in an unexpected place. At Human Solution, we were delighted to find ourselves mentioned in a recent New York Times interview with the editor-in-chief of The Wirecutter. For those of you who aren't "in the know", The Wirecutter is a site that reviews and recommends a wide range of products, from [...] Read More »
In the day and age of large open offices it's easy to forget that most small businesses starting out don't have the kind of capital for that kind of space. These businesses end up taking up residence in small office with limited space and in some cases, built in furniture. There's nothing worse than being stuck with a desk [...] Read More »
I can't say I've ever been happy sitting in a chair all day. During college, working at my first company, and starting my own inbound marketing agency eight years ago, I've spent roughly 30% of my time over the past decade in front of a computer. My posture was slipping, I was uncomfortable, and at [...] Read More »
Everyone's all about collaboration these days with a few exceptions. No need to get into those, this isn't that kind of blog. But something this new focus has led to is the rise of the "open office" model. No cubicles, no walls, just a large room full of people who can freely communicate with each [...] Read More »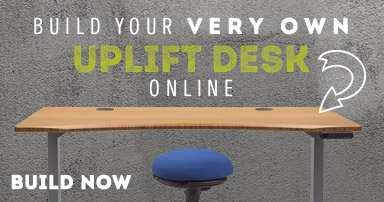 Interested in ergonomics?
Subscribe to our blog mailing list