Posted by Tyler Reinhardt on Jan 23rd 2018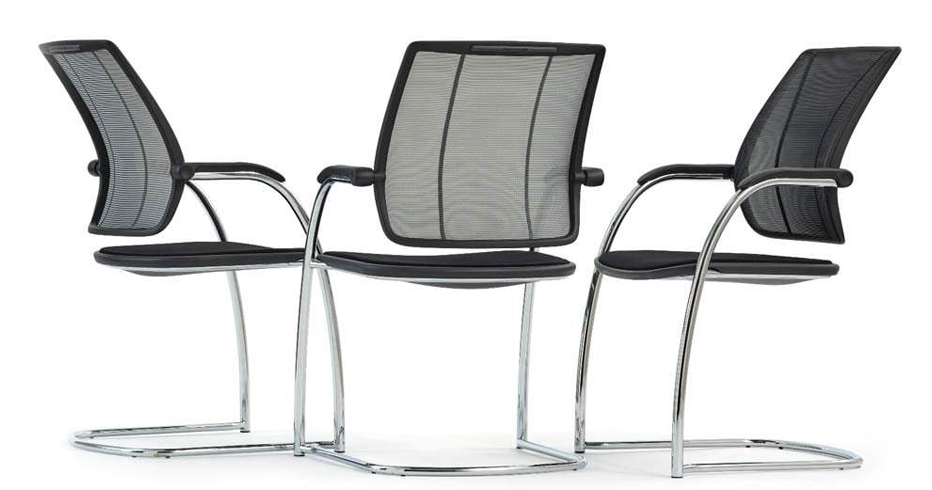 Ever find yourself in a conference room that lacks adequate seating? Hopefully, the answer is "no". I guarantee the number of people wanting to stand for the entire duration of a meeting is not a very high one and that number is only going to go down the longer the meeting runs. Besides, when you walk into your meeting does it not warm your heart to see all of the chairs hanging out with their chair friends waiting to provide support to weary legs and backsides? Well if it didn't it may now that your attention has been called to it. Anyway we're now selling yet another chair, this one made to accommodate whole teams of individuals.
The Humanscale Diffrient Occasional Multipurpose Side Chair is specifically made to be used in more collaborative settings. As a conference room chair, it won't have a lot of the nifty adjustments present on models that are made more for private settings but it has enough to keep everyone in your meeting comfortable. The biggest feature of the Diffrient Occasional Chair is its use of Form-Sensing Mesh Technology. Basically, the mesh on the back in combination with the slight bend of the chair frame makes it so that just by sitting in the chair the user gets support on the back including the lumbar area. It's a very adaptive design and you don't even have to fool with any levers or switches to adjust it! The arms of the chair are fixed and also part of the cantilever base; this gives the chair some flexibility and also allows for stackability - up to 5 chairs high in a single stack. This is a fantastic way to save space when there are no meetings and the chairs aren't in use. Finally, if you're more concerned with form rather than function, you have some options for the color and fabric of the seat. If you've ever ordered a Humanscale chair before, these are going to look super familiar to you. You also have some color options for the mesh that covers the back support of the chair.
When furnishing collaborative spaces, many will often want something simple that doesn't take up a lot of space. After all, you never know just how many people will need to cram into your meeting space with you so it's good to have a set of chairs that are not only uniform and make your space more pleasant to be in but are also reliable and able to adapt to multiple body types. The Humanscale Diffrient Occasional Multipurpose Side Chair is a great candidate to consider for the task and if you ever have any questions on pricing, availability, or just want to hear some other options, feel free to give us a call at 800.531.3746 and any of our talented reps can help you!