Posted by Tyler Reinhardt on Jan 2nd 2018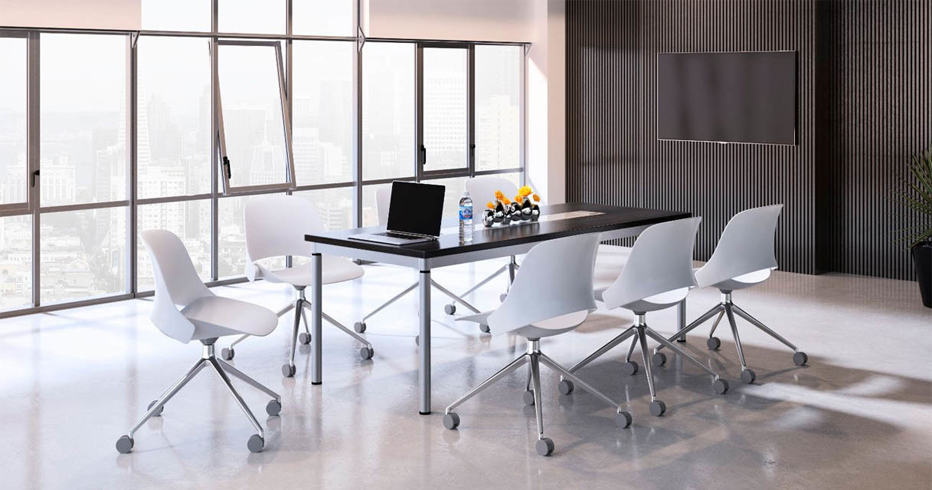 We pretty frequently look at chairs for the office. More specifically the chair in which the office's everyday inhabitants sit. So we thought it would be nice to have a look at some furniture for your office visitors. Because after all, no one wants to stand for an entire meeting while everyone else sits. That's just awkward.
As far as guest chairs go, the Humanscale Trea Chair isn't super flashy but it boasts some pretty neat features that users are sure to enjoy. Probably the most obvious option you'll notice when putting an order for one of these together is the option for the base style. The bases are available in three different options. You can get the four legs style which is pretty self-explanatory. There are four legs that come down at a slight angle for a more traditional aesthetic. The cantilever style is a bit more modern if that's more the style you're going for. Two legs attached to the underside of the seat come down and make contact with the floor, forming an S-shape which eventually connects in the back. The third option is the four-star base, which looks similar to the four leg but the legs are more angled and connect at a very short cylinder which attaches to the underside of the seat. No matter which seat style appeals to you, you can get it in either a white powder-coated finish or a polished aluminum, which looks a bit like chrome for those that have never seen it before.
Moving on up, you also have a few color options for the backrest shell - either white or gray. It's not super varied but they'll match pretty much any of the seat color options that you get to pick later on down the road. The seat shell is similar as well in terms of options, with white or gray color options as well. Not the toughest of choices. Where it gets a bit more complicated are the seat fabric choices. The seat shell is the hard plastic part that actually supports your body but the seat pad is the part that makes sitting in the shell much more comfortable. You have quite a selection of color and fabrics as well, ranging from Humanscale's Wave fabric to a luxurious leather option.
The only other option of note as you piece an order together is the selection of casters which are basically wheels that go on the bottom of your chair. If you don't want the chair moving much, glides are the way to go. They don't roll or allow for much movement at all really without a good deal of physical effort. Hard casters are great for carpeted floors and soft casters are great for when you have nice floors such as hardwood that you would like to protect. These are also available in a "breaking" version which can lock in place, preventing the chair from rolling.
But never fear - there's no need to be selfish in your pursuit of better sitting support. You needn't be the only comfortable one in the room. The Trea Chair will make your guests feel at home and also provide an alternative sitting space if you feel the need to take a break from whatever your main office chair is. As always, feel free to call us at 800.349.3839 if you need a quote or just want to grill a rep about the Trea. Happy sitting!