Posted by Human Solution on Feb 13th 2017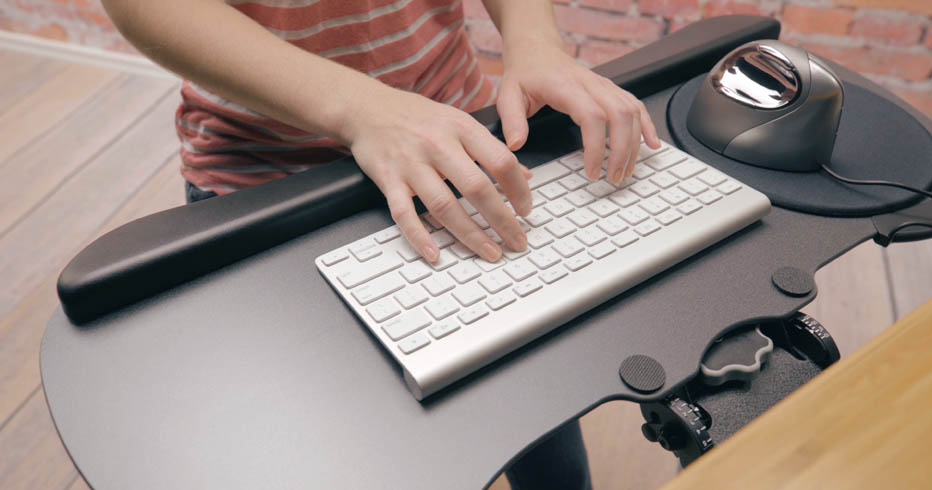 Are you experiencing neck and shoulder pain while working at your desk? If so, you're not alone. Like many people, you may assume that an ergonomic keyboard and/or mouse will help solve this problem, but my Number One recommendation would be to add a keyboard tray to your setup.
Even if you have an adjustable height desk, a keyboard tray will usually offer additional depth and angle adjustments that allow you to get your keyboard right in your lap, keeping your arms in a more neutral position so you don't have to reach out or up to type. Finding the proper typing and mousing position can really help prevent or relieve strain.
The UPLIFT Large Keyboard Tray, is a great value. It's highly adjustable – more so than many similar systems – and offered at a lower price point. You'll get a height range of 8"; from 5" below where the track is mounted to 3" above.
You also have the option of tilting the board either negative or positive. We recommend that you take advantage of the tilt feature and go with a negative tilt in order to keep your wrists supported and avoid flexing.
The UPLIFT Large Keyboard Tray comes with two different track length options: a 21" track or an 11" track. With the 21" track, you will be able to completely stow your keyboard tray under the desk. However, if you have a limited amount of depth for mounting, due to an obstruction like a crossbar, you can still mount the keyboard tray system with as little as 11" of available depth. You won't be able to stow it completely, but because this keyboard tray offers 360 degrees of swivel where the arm meets the track, you can always swivel the tray out of the way if you need to get closer to the desk. Alternatively, you could purchase your keyboard tray with an UPLIFT Track Spacer. This won't solve all depth issues for non-UPLIFT desks but it will allow you to mount your keyboard tray over the crossbar rails as if they weren't there! This gives you the full range of track to work with so you can fully stow your keyboard tray under.
For those wanting something sustainable and a bit different from our darker aesthetic, the UPLIFT Large Keyboard Tray is also now available in a Bamboo option. This gives your space an elegant look with a keyboard tray platform made entirely of environmentally friendly bamboo.
Check out more ergonomic accessories at our website, TheHumanSolution.com.