Posted by Human Solution on Apr 26th 2016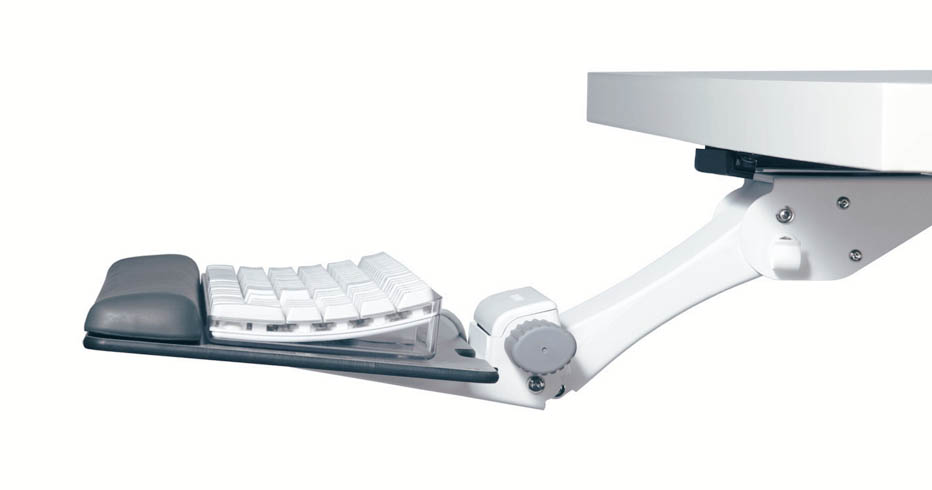 Here at Human Solution, we've told you about how important it is to get up out of your chair and stand for at least a couple of hours during a normal eight hour work day. While upgrading your standard desk to an adjustable height desk is the best way to go from sitting to standing at work, for some this is not a feasible option. We get questions often about how to be able to work at a standing height without having to completely change the desk at which you work. One alternative we suggest is a keyboard tray with an above-desk mechanism.
For those unfamiliar with the parts of a keyboard tray, the mechanism is the arm that controls the movement of your keyboard tray out from under your desk, as well as the height adjustment and tilt range once it's extended out. It's basically the part that attaches the tray platform your keyboard sits on to the track mounted underneath your desktop. An above-desk mechanism has a higher adjustment range above the track, meaning that you can actually place the keyboard tray higher than it would be sitting on your desktop.
Humanscale makes a couple of above-desk mechanisms that will work with any of their keyboard tray platforms and tracks. For the most overall adjustment, we suggest the 5GAD mechanism, which can adjust 7.5 inches above the track and six inches below. Having a good adjustment range below the track will help get the keyboard tray in the right position during seated typing.
If you are only concerned with getting the most above-desk adjustment, the 4GAD mechanism can go 8.5 inches above the track, as well as three inches below the track.
So if you think a keyboard tray might be a good budget-minded solution for a sit-to-stand workstation, go to any of our design-your-own Humanscale tray pages like the Humanscale 900 and choose one of the AD mechanisms in the options dropdown menu. Of course, the great thing about Humanscale keyboard trays is that they're completely configurable, so if you already have one with a different mechanism, you can always purchase just a 4GAD or 5GAD mechanism instead of a whole new system.
Please remember, however, that you're only adding a few inches of height to your workstation, so this may not be the right solution for taller users, and even average users may find that an AD mechanism still doesn't bring the keyboard high enough to where you are in a completely ergonomic and relaxed position when typing while standing. Our first recommendation remains upgrading to a completely height adjustable desk to get your keyboard to the right height (View our most popular adjustable height desks). But a keyboard tray with an above-desk mechanism may just be the solution for you to combat the pain, health and energy issues associated with sitting in a chair all day.
If you would like to discuss your options further with one of our in-house ergonomic professionals, feel free to use our live chat service, call us at 800-531-3746, or email at info@humansolution.com to see what the right solution is for you.