Posted by Nichael Bluth on May 17th 2018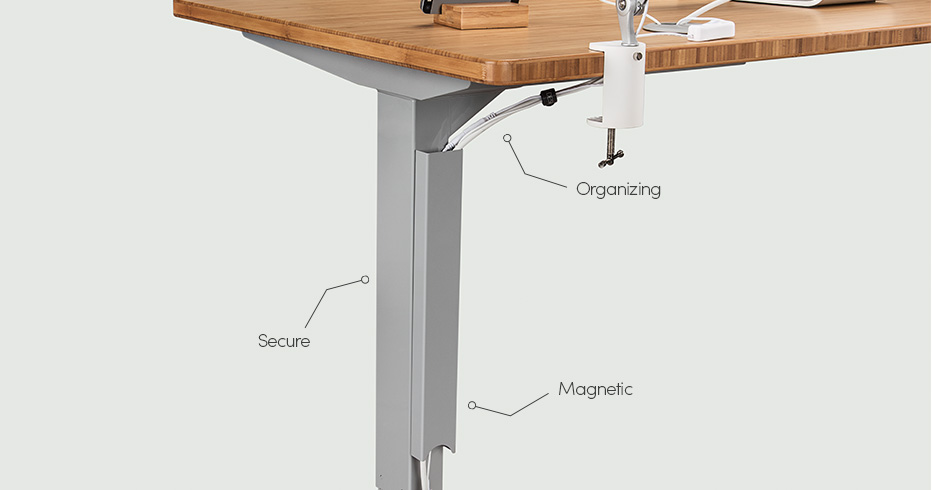 When you adjust for height at your sit-stand desk, what happens to your cords?
If you're working with inadequate wire management, the answer to that question could range from "my cords pull tighter" to "desk accidents." Don't let your cords hang by the wayside, give them an infinitely-reusable tool that allows you to organize and route them at your desk with the Magnetic Cable Organizing Channel by UPLIFT Desk.
Thanks to this handy little wire management tool your cords have a protected home, so you can adjust your desk without worry. Not only that, but it works wonders on cleaning up the clutter of cords around your workstation, letting you secure them directly to your desk frame. The cleaner members of your office will be thankful for the organizing gesture. Then make the style queens in your space happy and match yours to your desk in white, black, or gray. You'll have the coordinated desk you want, with the wire management tools you need.
Complete your desk setup with a collection of other storage and organization tools to help you work more productively and with fewer accidents. From the basic wire management kit to in-desk wire grommets, we can get your cords off the floor and safely secured to your sit-stand desk in no time.
And as always, if you have questions about which wire management option is ideal for your desk, reach out to us and we can help you pick the perfect piece to manage your wires.