Posted by Tyler Reinhardt on Jan 2nd 2018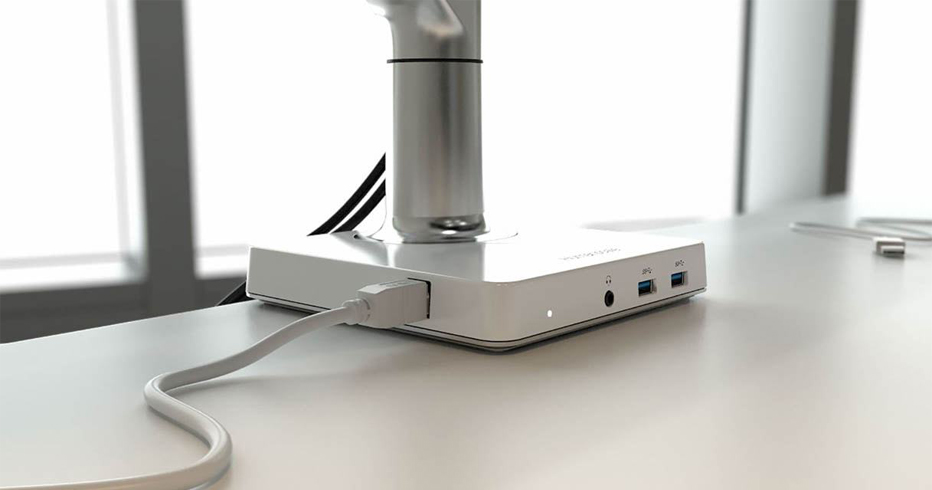 Monitor arms are a pretty common solution for getting screens up and off desktops. Using a monitor arm frees up real estate on your workspace and gives you more freedom to angle your screens at more ergonomic (and comfortable) positions. It's great for your neck, your back, and everywhere in between. They're usually pretty good about featuring some sort of wire management as well. However, as with most things, there's always room for improvement. For instance, how about a system that gives you easy access to the power needed to run your devices? Well, now you have the chance with the Humanscale M/Connect Docking Station Retrofit Kit.
Before we dive into features, it should be noted that the M/Connect was designed for use with Humanscale's M2, M8, and M/Flex monitor arm systems. That being said, there's no guarantee that it'll work with any other brand or model of monitor arm. Speaking on the subject of utility, the M/Connect gives you two advantages. On the underside of the clamp, hidden by your desktop, is a dual-video docking station which expands your available ports while the USB 3.0 HUB does the same for your USB connections. The unit discreetly sits on your desktop for easy access and unplugging, so you won't have any maneuvering to do when you reach for your USB ports.
When you go to order the M/Connect you'll need to know which monitor arm model you're ordering it for. It's available for the M2, M8, and the M/Flex. You also get to pick the color of yours, which is super exciting if you like to stylize your office accessories. Your options here are silver with gray trim, polished aluminum with white trim, and black with black trim. You can either match the arm you're buying the M/Connect for or choose a different color option for aesthetic preferences.
"How does this help your wire management?" you may be asking. With the M/Connect, you won't have to feed cords over the desk or do any awkward maneuvering to reach the ports that you need access to. They're all right on top of your desk well within reach, and it's a great tool when used in combination with other forms of wire management. If you're curious about what those options might be, feel free to call 800.531.3746 to speak with one of our reps. They'll be happy to help you get connected.