Posted by Tyler Reinhardt on Feb 1st 2018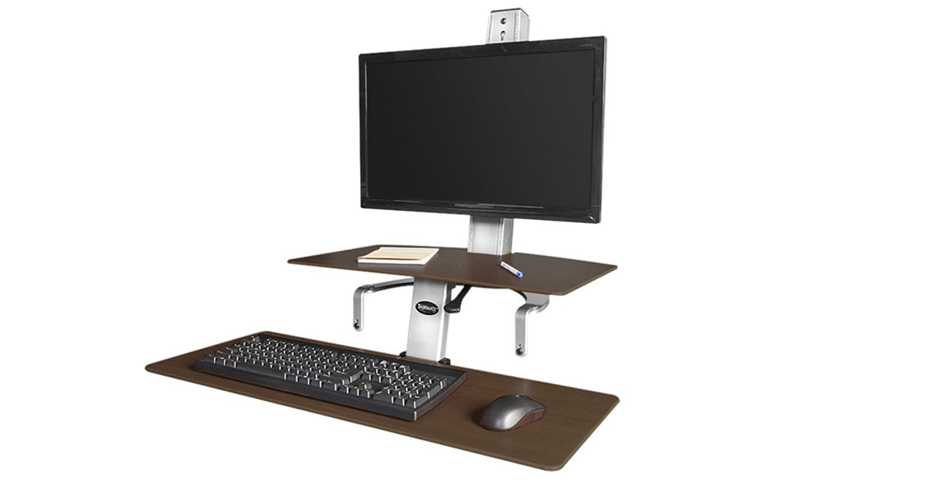 Most people looking to join the sit to stand revolution are familiar with the concept of the standing desk. They're desks that have enough height on it for you to stand while you crank out emails and reports, mitigating the adverse effects of prolonged sitting. Those who want to take it a step further have probably even delved into the realm of the height-adjustable standing desk, which gives you the best of both sitting and standing. Sadly, there are many offices in which a full desk upgrade just isn't possible and these are the people that have probably had a look at the concept of a standing desk converter. There are plenty on the market to choose from and we actually offer quite a few on our site. So when we decide to bolster the ranks, we usually like to give the new guys an introduction.
The HealthPostures TaskMate Go Home is our newest addition to a growing family of standing desk converters. It has a few interesting features, such as a lower keyboard tray platform, which is capable of going beneath the desk for more ergonomic hand positioning while sitting. The keyboard tray dimensions are 30" W x 12" D, which will fit most standard keyboards. There's also an upper worksurface with dimensions of 23" W x 15" D on which you can rest stationery or personal items. Whether you have one monitor or two, the Go Home has an option to accommodate either. For one screen the max size that the Go Home is designed for is 30" while the dual monitor model can handle two 24" monitors. The weight capacity is also fairly standard at 35 lbs. As for the height range, the unit can adjust within a range of 18", which should be good for most users barring some odd desk height.
Speaking of desks, the Go Home is mounted via a clamp base, which means that it's only going to be compatible with certain desktop thicknesses. Specifically, your desk needs to be between 7/8" and 2" thick. Those of you who lack an abundance of power outlets will also be thrilled to learn that the Go Home uses a pneumatic lift so no electricity is required. Lastly, in the unlikely event that you experience issues, this product has a 5 year warranty. All you need to do is give us a call.
While we're happy to service your warranties that's not all our number at 800-531-3746 is good for! Call our reps to ask any outstanding questions you may have or get a quote from us for a HealthPostures TaskMate Go Home, UPLIFT Height Adjustable Standing Desk, or really anything else you happen upon on our website!