Posted by Mandy Spivey on Dec 27th 2018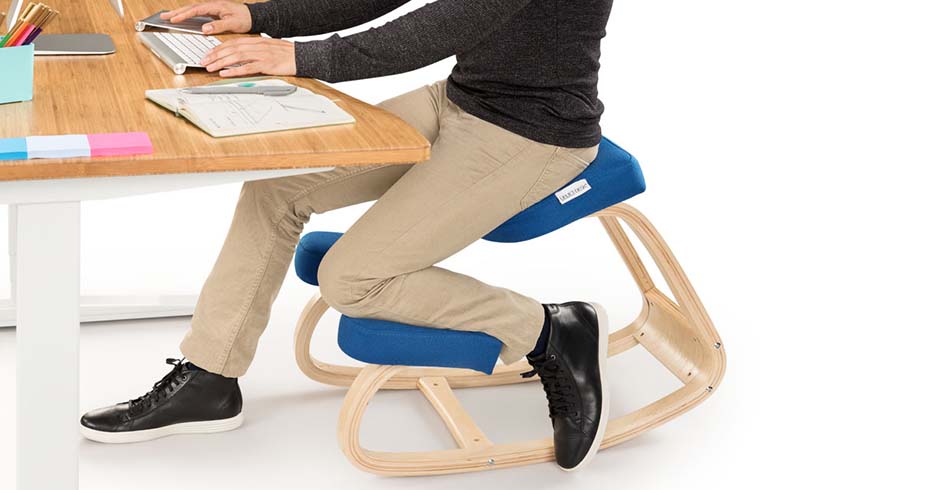 When you think of office seating, what comes to mind? If you thought ergonomic chairs and active stools are the only options you have to stay comfy, well you're in for a big surprise.
As ergonomists and doctors work to find the healthiest ways for our bodies to work, we're ready to adapt with cutting-edge chairs that allow you to sit in postures that are healthier for your body and work style. If you've never seen a leaning chair before, the revolutionary design might look like something out of a massage therapist's studio - but don't let this stop you from shaking up the way you sit. Leaning stools like the Ergonomic Kneeling Chair by UPLIFT Desk lets you sit in an entirely new way, with less pressure on your behind, which eases a lot of sciatic pain that people can develop from sitting too long in classic office chairs.
A Brief History of Kneeling Chairs
If you're still left scratching your head about what sets this type of chair apart from other ergonomic seats, you're not alone. Yet, this chair has been around for almost four decades. Designed in 1979 by Hans Christian Mengshoel, the original kneeling chair was named the Balans chair, and was created with the goal of reducing lower back strain on the user by dividing the weight of the body between the knees and the buttocks.[1] This is important for people with coccyx or tailbone pain and/or injuries, as sitting for too long in one position can create additional pressure on this already sensitive area.
A proper kneeling chair creates the open body angle by lowering the angle of the lower body, while keeping the spine in alignment and your body properly positioned. Sitting in this posture allows your body angle to remain at 90° or wider, which is ergonomically ideal.[2] If you're wondering about applying extra pressure on your knees, don't worry! This is a common misconception regarding kneeling chairs, but it's not true. In a properly-designed kneeling chair, most of the weight remains on the user's behind, with some weight bearing on the shins, and not the knees. The primary function of the shin rests, or knee rests, is to keep one from leaning too far forward. Take a seat on one and feel your body slip right into place; it truly is a feeling you have to experience to believe.
Designed for Ergonomics, Built for Long-Lasting Comfort
At 2 1/4" thick, the extra comfy seat and knee cushions on this kneeling chair offer you more support than chairs with less plush padding, meaning you won't have to worry about excess pressure on your knees as you sit. The base and rocker bottom is made from super sturdy Birch wood, so the durability of the chair as you tilt and rock away won't be an issue. Able to hold up to 200 lbs, this revolutionary chair seats a wide range of users who would like to take a little of gravity's weight off of parts of you that normally get the most while sitting (tailbone! We're looking at you!).
You'll get to choose from gray or blue color options on the knee and seat cushions, the perfect subtle splash of color to suit most office styles.
A Kneeling Chair. Will It Work for You?
The bottom line is: kneeling chairs are ideal for any person who feels pain in their tailbone when seated in traditional chairs. But even if you don't have pain or injuries, if you're tired of traditional seating and would like to sit more comfortably and in an entirely new way, a kneeling chair is a great seating addition to have on-hand to use in conjunction with your full-time office chair.
References:
1. "Balans: A Design Revolution". The Federation of Norwegian Industries. Archived from the original on 2013-03-21. Article about the original Balans chair.
2. Dr. A. C. Mandal. "Study Report: Balanced Sitting Posture on Forward Sloping Seat"