Posted by Mandy Spivey on Oct 19th 2018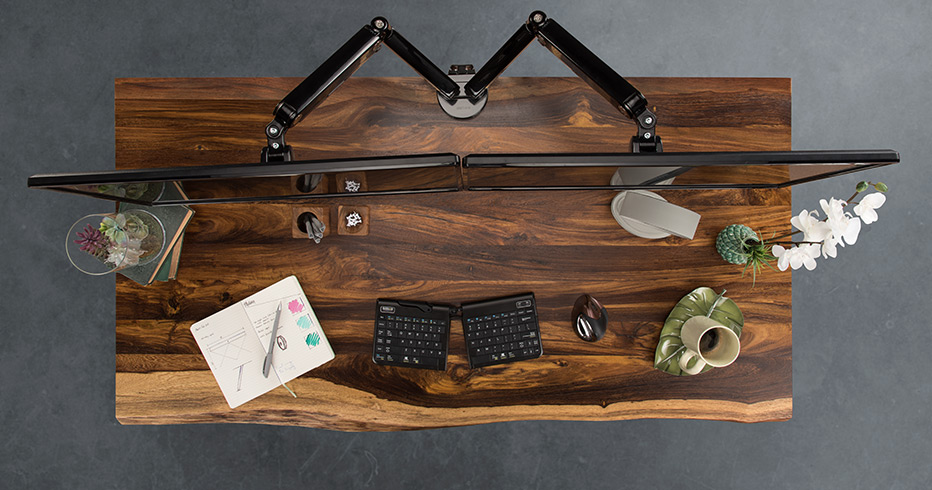 If you spend your workday indoors or in an office, being near nature might seem out of reach some days. You save your outdoor activities for weekend hikes and maybe even a run through the trails, but what if you want to immerse yourself a bit more?
Bringing some natural pieces, like wood or stone, into your space brings much more than just a pretty piece of decor; these thoughtful little details have been proven to bring calm into the workspace, transforming soulless offices into spaces that blend the best in genuine wood furniture and ergonomics. When you're looking to design the standing desk of your dreams complete with the beauty of real wood, Quick Ship Solid Wood Desks by UPLIFT Desk are here.
Now available to ship to you even quicker than ever, you'll have your solid wood sit-stand workstation in no time. And where other desk manufacturers sell only one or two selections of hardwoods in a few different stains, with UPLIFT Desk you get many more options. Cut down on your wait - we have Pheasantwood, Premium Walnut, Natural Ash, African Mahogany, and Acacia tops all ready to ship to you!
Hardwoods with Heart
If you're new to the solid wood game, it can be confusing why so many people get excited at the mere sight of a nice cut of genuine hardwood. UPLIFT Desk's selection of tops were carefully chosen because of each hardwoods unique characteristics, and we think it's fitting to shine a light on some of the best features of each. We'll start with Acacia:
Acacia - Comes with a beautiful grain structure; its eye-catching swirls of light and dark wood make for a dramatic piece that simultaneously intrigues and relaxes the mind.
Natural Ash - This durable wood features a light-colored look and comes with an open grain that suits most office styles.
Walnut - Used in furniture construction, this fine-grained hardwood boasts a deep, warm color that draws the eye adds a striking touch to work spaces.
African Mahogany - One of the newest additions to the UPLIFT family of hardwoods, this rich, red-hued hardwood features an interesting interlocking grain and a beautiful top sheen.
Pheasantwood - Like the black and golden figured patterns of a pheasant's tail, Pheasantwood tops boast jaw-dropping wood grains, and come with a square back with a front barkline edge (or barkline edges on both the front and back on 80" desktops).
Measuring it at a full 1.75" compared to 1.25" that a lot of desk manufacturers sell, when you buy a solid wood desk from UPLIFT Desk, you'll have the heavy duty desk you need to handle even the heaviest of setups, from 355 lbs on their 2-leg desks all the way up to 530 lbs on their 3-leg and 4-leg desks. A built-in support system underneath with a team of steel support bars prevent breaking, bending, or warping, which is important in areas with different relative humidity.
Sustainable Solid Wood Desktops
Mother Earth is the designer of the desktops, and we take the time to thoughtfully keep the characteristics of each type of wood. All wood is sourced by sustainable methods, and then sealed with sealants that contain no VOCs, you can be sure you're working at a desk that's with you for the long haul without bringing dangerous chemicals into your work area.
And for each solid wood desk that UPLIFT Desk sells, they'll donate five trees to plant in a national park through their partnership with the National Forest Foundation. This is work you can feel good about on more levels than one.
The Complete Desk with Accessories from UPLIFT Desk
Once your desk is assembled to perfection, you can accessorize to your liking with accessories like monitors arms, keyboard trays, and ergonomic chairs! With desks from UPLIFT Desk, you get to customize it, all the way down to the heavy duty casters.
Have questions or need help? Give us a call, chat us, or stop by our retail location, Human Solution Office Furniture, to talk one of our space planning designers and test out a few chairs and accessories you may have had your eye on.