Posted by Mandy Spivey on Nov 30th 2018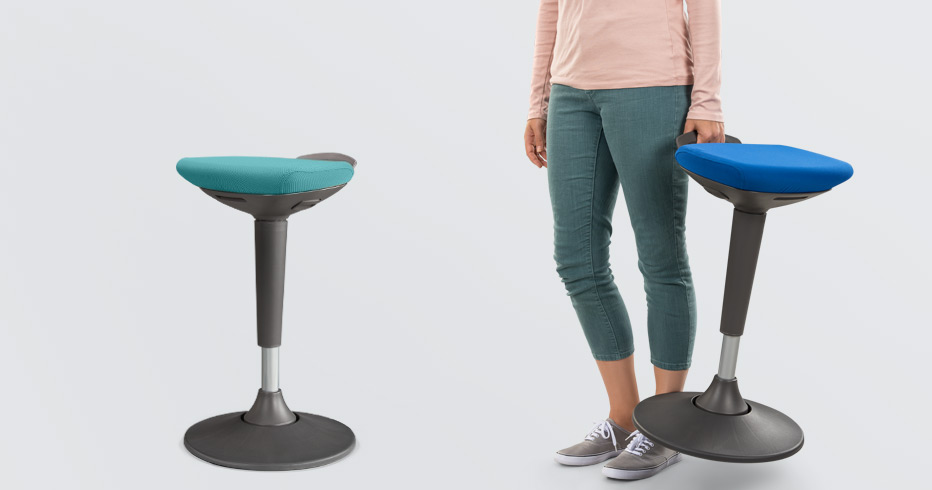 Active seating options allow users to exist in the middle ground between standing and sitting. "Perching" as it's often called, gives you flexibility to move, swivel, rock, and engage your body a bit more than sitting in an office chair allows for, while still giving your body the chance to rest.
When you're shopping around for an active stool that provides for just the right amount of motion for your body and work space, look no further than the Starling Stool by UPLIFT Desk, the newest addition to the UPLIFT family of seating. Designed to help you move more (which does some pretty awesome things like open up your spine and improve circulation), the Starling gives you another seating option to use in conjunction with your usual office chair, giving you all the choices for seating, whether you feel like resting or waking up in the moment.
The Features
360 Degree Rotation
When you're interested in getting a little extra motion in the office, the Starling Stool is a fun solution to get you rocking and swiveling at your workstation or cubicle.
Sturdy Base for Stability
One of the features that sets the Starling apart from other active stools on the market is its revolutionary polyurethane domed base, the point at which it pivots from, which gives the user stable motion and flexibility to move in all directions.
Seats in Your Fave Color
Never one to be short on options, UPLIFT Desk offers five different color choices to suit your style tastes, and include fun shades like Myrtle Green, Blue, Orange, Gray, and Brown.
Lightweight & Portable
Weighing in at less than 12 lbs, this portable active stool is easy to move around the building, your home office, or even the classroom! All you have to do is pick it up by the convenient handle on the back of the seat and move to your next work spot.
Quick & Easy Assembly
A little assembly never hurt anybody! And when we say little, we mean it. The only assembly you'll have to complete before you get to use your new stool is to insert the Starling's cylinder into the seat, and then that assembly into the base.
Not quite what you're looking for? No problem at all! We have active seating solutions to get you on your feet and into a comfortable, yet restful posture that helps you stay energized and productive throughout the day. Shop active stools and office chairs from UPLIFT Desk here; or call, email, or chat us live on our site for personal shopping assistance and ergonomic advice tailored to your needs.