Posted by Human Solution on Feb 14th 2017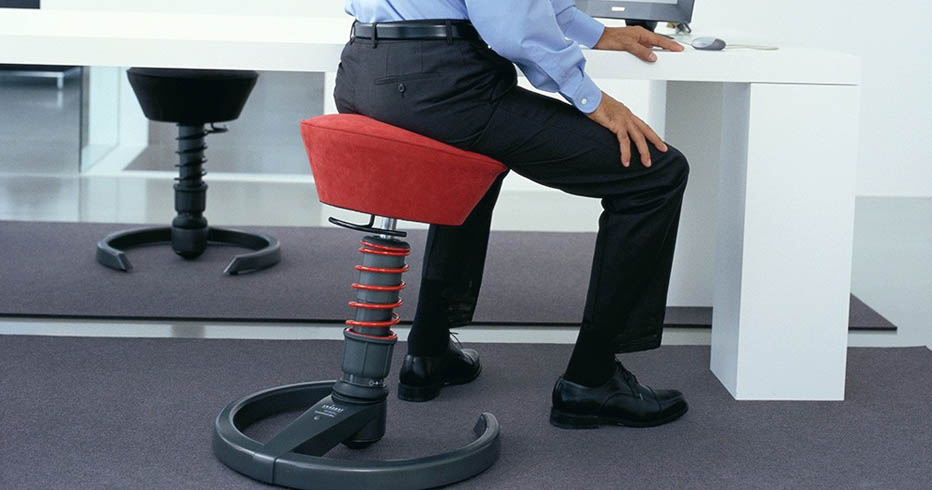 Exercise balls have been the office chair alternative of choice for many people looking to infuse their work day with some form of physical activity in an effort to counteract prolonged static posture, one of the leading health threats to the working population. While a balance ball is a creative way for some to address this issue, they do come with some very real risks that can lead to serious injury, such as bursting or quietly rolling away leaving you to thud onto the floor. And, if this is your only office chair, you're left to wrangle the thing in and hope your ball isn't a repeat offender.
In place of a balance ball, we recommend the Via Swopper, which offers all of the benefits of a balance ball without the troubles that come along with them. The Swopper's unique spring-loaded design not only engages the back and abdomen, but also improves nourishment to the intervertebral discs and assists lymphatic flow with its gentle bouncing. While the Swopper does not offer traditional lumbar support, since you're forced to balance yourself on the stool, you are engaged in ways that transcend traditional lumbar supports: you're not simply being supported, but strengthened and toned.
What's more, the Swopper stool has adjustments typically reserved for task chairs granting you complete control of chair's flexibility. Each of the adjustments on the Swopper not only address the problems typically associated with exercise balls, but improve upon them with easily adjustable seat height and lateral movement are each independently adjustable allowing you to tune the fit and movement to myriad users. The spring, too, is tension adjustable, granting you full control of how much bounce that chair has based on how sprightly you feel.
Perhaps the one area the Swopper chair and exercise balls are similar is their recommended daily use. That is, if either is used all day without offering some relief for your back, you may begin to feel fatigued and your posture will suffer. That said, we do not recommend this as a full-time replacement for your current chair, but more as an alternative given the potential risks and the inability to appropriately support your back and seat when needed. The Swopper may be ordered (or retrofitted onto an existing Swopper) with a back support made from polyurethane mesh that is at once breathable and stabilizes for a short break from bouncing. However, as much fun as this chair is, it should not be used in place of a standard chair back with full support for all day use.
Exercise balls also stick out like a sore thumb in an office environment, but the Swopper is available in an almost absurd number of colorful fabrics, including leather and an ultra suede special edition model with a dyed spring to match the fabric for a unique and fun design with colors that pop.With the colored spring you'll be one step closer to capturing the true essence of the Swopper, which is, essentially, that of a bar stool that mated with a Willy Wonka trampoline.