Posted by Justin Parker on Jan 30th 2019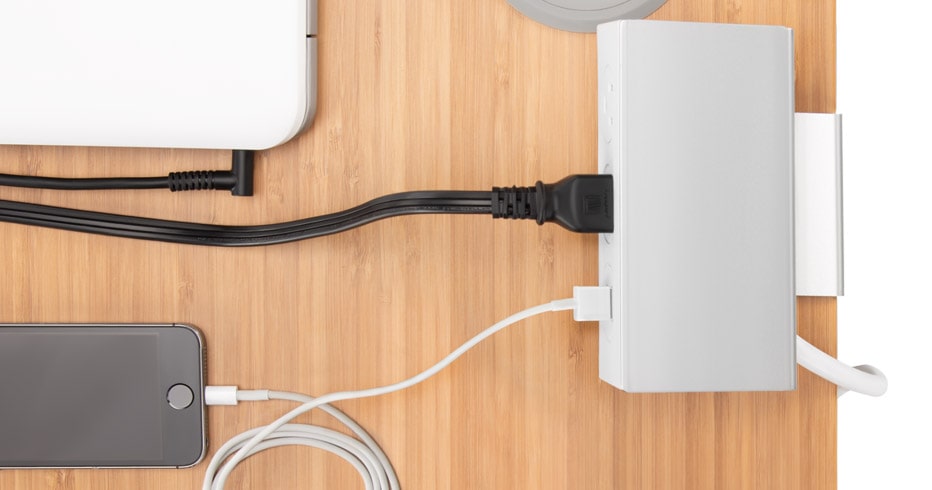 A Better Way to Power Your Workstation
It's not easy to reach the wall outlets when you need to reroute some cables or make a change to your desktop configuration—not without moving your entire desk or getting down on all fours. And while you may be used to venturing under the desk to plug in your laptop, your kneecaps could probably use a break. For that matter, what about charging your phone? We all know the annoyance of plugging our mobile devices into the computer, then closing pop ups, waiting on drivers, and pushing cables out of the way.
What if we told you that you it didn't have to be this way anymore?
If you review your workspace and think about everything you do at your desktop, you'll discover that a new power solution—one situated much closer to your desk—can take care of multiple issues you encounter throughout the day. As you begin to think about which features are right for your desktop, let us help guide you through some of the important considerations.
By the way, we're pretty proud of our new Clamp-on Power by UPLIFT Desk, which includes two desktop power outlets and two USB charging ports, so we'll also make the case for how it could be the answer you're looking for.
Make a List of Components and Devices That Need Power
One of the most effective ways to organize your research is to grab a pen and paper and make a list of everything in your workspace that needs power. Be sure to include how it's getting power now, if at all. And remember—it's easy to overlook desktop items that don't get unplugged or plugged in frequently.
You can use these questions to prompt you and help fill out your list:
Can you plug in your computer tower (if you have one) without having to run the cable too far?
Are you a single-monitor type of person? Do you have dual screens? A four-monitor data center?
Will your workspace technology footprint be expanding in the near future?
Are there free power outlets around your desk, or have you started daisy-chaining power strips (which could be a fire hazard)?
Where do you plug in your laptop? Is it convenient for you to get to, or do you have to do some acrobatics?
Are your electronics covered in case of a power surge?
What do you normally keep at your desk that needs charging? Is it your dedicated area to revive everything that has a battery, or do you just bring your smartphone with you? Can you plug anything into a wall outlet using an adapter?
What else sits on (or near) your desk that needs power?
If you're looking at our power solutions, the Clamp-on Power by UPLIFT Desk includes two power outlets (3-prong) and two USB ports for charging mobile devices (there is no data connection currently). It's a small and unobtrusive unit that clamps on to the edge of your desk—and it's stylish enough to enhance the look of your workspace. You won't mind having one or more as part of your desktop setup.
If you haven't accounted for electrical surges yet, you'll need to add another solution (since the Clamp-on Power module does not account for them, either). May we recommend the Clamp-on Surge Protector by UPLIFT Desk, which comes with six outlets (two of which are spaced out for bulky power bricks) and two USB charging ports.
What Should I Do for My Height-Adjustable Desk?
If you like to switch between sitting and standing at your workstation, you'll want to ensure that any power module you pick up can solve for the changing distance between your powered devices and the outlet. You'll also want something that prevents tangling and snagging cables. Those are two big reasons why desktop power is the way to go.
Naturally, we recommend the Clamp-on Power module for this application, since its 10' power cable provides the slack required for your desk to make the journey from sitting to standing. To minimize cable snags and organize your wires more comprehensively, we suggest the Basic Wire Management Kit by UPLIFT Desk. It solves the standing-desk power conundrum using a power strip with a 15' cable.
Charging Mobile Devices
If you'd like to reserve your computer's USB ports for flash drives and wireless dongles, but still need a place to plug in your phone, you'll want to look at power solutions that include USB ports. Use these questions to help you account for your mobile devices:
Do you have unused USB ports available? If not, how many more do you need?
Are all of your devices compatible with your current USB ports?
How long does it take to charge your phone? Is that fast enough for you?
The Clamp-on Power module includes two USB ports with a shared charging capacity of 2.1A, so it's likely to charge one device faster than your computer would; note that two devices would have to split the charging capacity between them.
Getting the Power onto Your Desktop
We also have to consider how the new power module would get mounted to your desktop. Sure, you can Velcro an off-the-shelf power strip to the back edge of your desk and call it a day—but you still need to get it to plug into the wall. You're looking for a desktop power solution that exceeds DIY standards.
In that spirit, let's talk about how you'll attach your desktop power. When mounting a new power solution to your desk, be sure to consider these questions:
Where on the desk do you want to place the power module?
How thick is your desk (what's the edge measurement)?
Does your desktop scratch easily? Is it somewhat delicate or breakable?
Can you figure out how to put things together pretty easily?
How will the power to attach to the desk (screws, clamps, etc.)?
The Clamp-on Power module, as its name suggests, clamps on to any side of your desk easily—so you can place one or more units wherever you need them, so long as your desktop is between 0.74­" and 1.75" thick. If you have an UPLIFT height-adjustable desk, you're covered. Not only does the Clamp-on Power fit a large variety of desks but also installs in about 20 seconds. Just tighten the plastic clamp feet using the knobs on the bottom and you're ready to go. In addition, the neoprene padding on the top side helps keep your desk surface from getting scratched or dinged—and prevents the module from slipping.
Power and Charging in One Unit
Considering all that you're trying to accomplish in your workspace, doesn't it make sense give some attention to your power delivery system? With the Clamp-on Power by UPLIFT Desk, you gain more flexibility to power everything right where you sit—or stand. Given the affordable style and simplicity of this solution, we proudly recommend it to you as an excellent power source for standard laptop and workstation setups. For more elaborate desktop power needs, you can certainly add additional modules; you may also take a look at some of our other UPLIFT Desk power accessories.