Posted by Human Solution on Aug 4th 2014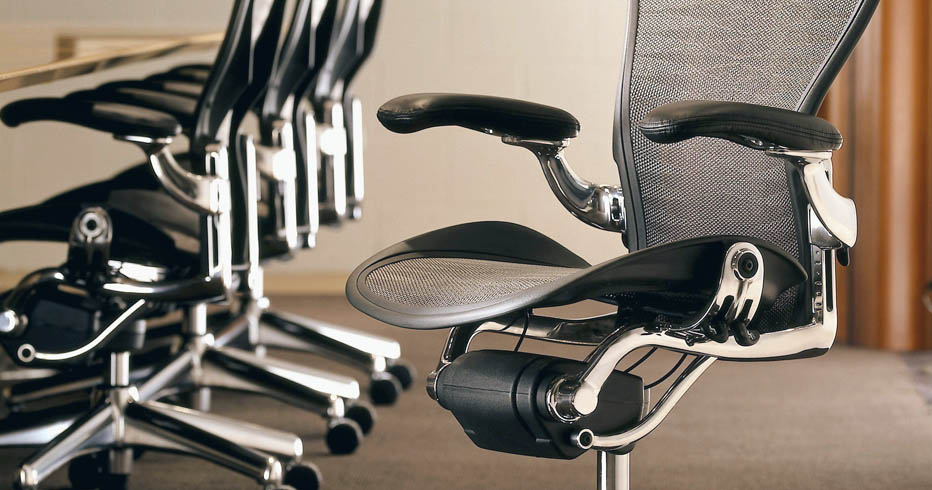 Herman Miller is a widely recognized brand - we get people inquiring about them regularly (especially the Aeron Chair). This is because this line of office chairs was one of the first to get in on ergonomics; the Aeron Chair still has name recognition that rivals the best in the business. While we respect the cultural significance of this brand, we believe there are other offerings that have since improved on ergonomic design elements, and have a wider variety of customization. Sometimes name recognition doesn't always reflect superior quality, and in these alternative offerings, you'll see this is the case.
For anyone looking for what compares to Herman Miller Chairs, check out these offerings:
Raynor Ergohuman Chair: Mesh, High Back with Headrest ME7ERG: This chair is a rising star in the ergonomics world, and by far our best-selling all mesh chair. It has great lower lumbar support, and easy adjustment controls - which appeals to many users. From people trying to resolve back problems to taller users wanting a headrest and a height-adjustable back, this chair keeps you cool in the office - both literally and figuratively.
Humanscale Freedom Chair: While not a mesh chair, this chair rivals Herman Miller in brand recognition from the corporate culture perspective, and it surpasses them in customizable options. With this chair, you can opt for a gel inset in the seat (my favorite option) - which helps you stay comfortable while sitting for extended stretches. Instead of getting rough and hard during those long stretches of time, the gel inset keeps your seat feeling soft, and it molds to the weight of your body. The Freedom Chair offers innovative movement and simplicity - when you lean back in the chair, the chair moves in a way that keeps you in a healthy posture. This chair deserves all the hype it gets.
Humanscale Diffrient World Chair: The Diffrient World, named after designed Niels Diffrient, is my personal favorite from Humanscale, and it's a really comfortable mesh chair. The World chair's seat is significantly more comfortable than the Aeron Chair because it has a soft "waterfall" design, and no hard angles hitting your legs in awkward ways. Its tri-panel mesh back is designed to fit naturally around your back - creating softness and support. This chair is also produced sustainably, and is one of the more affordable options from Humanscale's line of chairs.
Steelcase Gesture Chair: If a chair could be a rock star, this chair would be it. As the newest release from Steelcase, this chair is just incredibly comfortable and innovative -its lumbar support encourages healthy posture and its adjustments are intuitive and varied. This is the perfect chair that marries incredibly sleek design with high end ergonomic comfort. I have had success matching this chair with people needing strong back support due to a variety of medical problems. The Gesture also has the best adjustable arms on the market- their range of motion allows you to adjust your chair in virtually any position you can think of.
These chairs may not look like the Aeron chair or others from the Herman Miller line - and some of them may not have the name brand recognition; but their quality of design outpaces the ergonomic comfort and value of the Miller Line. If you happen to be looking for the perfect chair, we recommend you do not buy based on what is most famous - give us a call and we'll give you an introduction to ergonomics, and help you find the chair that is best for you!