Posted by Human Solution on Jun 13th 2012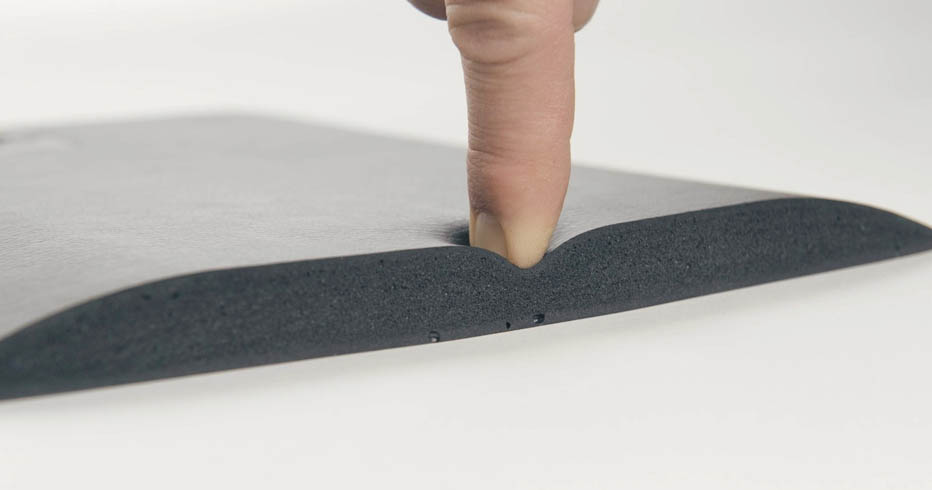 Let's pretend you've taken our advice and bought one of our UPLIFT Sit-Stand Desks. You love it, you feel great while you work, and you have more energy at the end of the day. You've even trimmed down a bit and you've decided to grow a soul patch. There's just one problem: your feet are jealous this "reconfigured you" has come at their expense. Your feet are being asked to take on a greater physiological burden. No longer are they happy feet. In fact, they are disgruntled feet. Let's face it, you can't blame them. Standing can put plenty of strain on the feet. (It's worth it though, for the numerous other benefits standing gives you). So what can be done to shut up your barking dogs? The answer is an anti-fatigue mat.
As the name implies, an anti-fatigue mat is designed to prevent or reduce fatigue. The fatigue, in our case, belonging to your feet.
"Anti-fatigue mat" is a very broad category. There are anti-fatigue mats designed specifically for any number of commercial, retail and industrial applications and the perils they represent. For now, we will try to focus on a subcategory of anti-fatigue mats that work in the home or office -- desk mats.

A Rhino Marbleized Tile Top Anti-Fatigue Mat 7/8'' will provide more than enough cushioning to notice the difference at the end of the day and will leave much more cushioning in your wallet. We recommend a 2' x 3' size as that will leave you with sufficient area to stand and shift your posture and won't be so large that it becomes a hassle to move the mat out of the way when you want to lower your desk and return to your chair. Another consideration: if you prefer something with similar padding but a different aesthetic look, try the Rhino HDT Industrial Smooth Double Sponge 3'x5' Anti-Fatigue Mat.
When working with a sit-stand desk, as you can see, there are numerous solutions to the problem of tired feet. A desk mat such as those listed above will go a long way toward ensuring that your feet feel as fresh as the rest of your body does.