Everyone's all about collaboration these days with a few exceptions. No need to get into those, this isn't that kind of blog. But something this new focus has led to is the rise of the "open office" model. No cubicles, no walls, just a large room full of people who can freely communicate with each other sans the interference of intraoffice barriers. The idea behind open office layouts is this: when employees can communicate freely and efficiently, productivity increases. So how does one furnish such a setup? Well, it being an office, you'll probably want some desks, which we have. The only thing is, if you have a really large office you'll probably want a lot of desks. Each of those desks has to plug into a power source. So how do you power a large number of desks with a very not large number of wall outlets? UPLIFT now has just the thing.

The UPLIFT Desk Power & Data Link makes having an uplifting workplace that much easier. This simplifying accessory allows you to "daisy chain" your desks together without creating a mess of cords. The main power system is installed on the first desk and then from that point, a looping cable will deliver power to all of the connected units in the group. This means that with a 4-circuit wall plug you can connect up to 16 desks without having to bother with surge protectors and unruly wires.

The Power & Data Link system starts in the $400 range per desk, but for a more accurate quote on the pricing, all you need to do is send your office layout to us and we'll get you a quote and a custom electrical system design asap. You can find the contact form for this little innovation on our site, but if you need any assistance getting all of your information submitted, don't hesitate to give our customer service professionals a call at 800-531-3746.
It's always a little jarring when you're at the office just typing away the day and all of a sudden you hear a stream of expletives followed by an "OH, GOD WHY?!?!?" Yup. Your generic hypothetical coworker just reaped the results of months of bad posture. We'll call him Steve. Steve is now clutching his [...] Read More »
Feet are important. You need them to run, walk, swim, gross out your siblings, and, of course, stand. Your standing desk is a lot like you, for it too gets its stability from its feet.Even more so if you have an adjustable standing desk. This is why a surprising amount of thought goes into the [...] Read More »
Remember that Buzzfeed article called 34 Things Austinites Love, or did that only make the rounds of your Facebook feed if you're in Austin? While there were some questionable statements on that list (The Robinsonian at Tyson's is heads above Torchy's and Tacodeli's breakfast tacos, IMHO), there was one notable item left off: Austinites love [...] Read More »
Over the last 70 years, as the majority of American jobs have moved out of the factory, off the farm, and into the office, the life of a worker has become more and more sedentary. We spend more time than ever sitting - sitting in the car, sitting on the couch, and, most of all, [...] Read More »
So you've read all of the statistics about how sitting all day is killing you, and you've decided to take the plunge and get a sit-stand desk. There are many options to consider at this stage, all of which can vary wildly and can be a bit overwhelming. A good place to start when you're [...] Read More »
You've selected all of the options on your UPLIFT Desk, from the size of the desktop to the color of the frame, but there's still one more choice to be selected: the shipping method. Unless you're fortunate enough to live within easy driving distance of our central Texas showroom, your UPLIFT desk order will be [...] Read More »
That new desk of yours is like a puppy. It sits, stays, and is oddly adorable in the right setting. It won't fetch or roll over, but you can still cuddle with it. Not too hard, as we don't want cuddle related injuries on our conscience. Another thing that puppies are well known for is [...] Read More »
Everybody wants to upgrade their desks now, it seems, but not everyone is able to do away with their old desk setup. Those stubborn office bureaucracies tend to make everything more difficult. As much as you'd probably like to take an ax to that fixed height abomination, there are solutions that are much less violent. [...] Read More »
The quest to find your perfect standing desk can seem daunting from the get-go. Pneumatic lift or electricity, standing converters, crossbars, programmable keypads - most people know their work style could improve with the introduction of an ergo-friendly desk, but don't know where to start. There's just so much background research that must go into [...] Read More »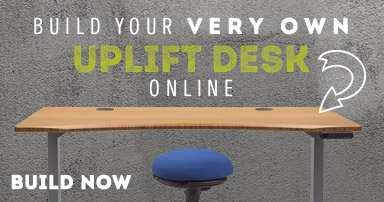 Interested in ergonomics?
Subscribe to our blog mailing list