Posted by Human Solution on Jan 31st 2013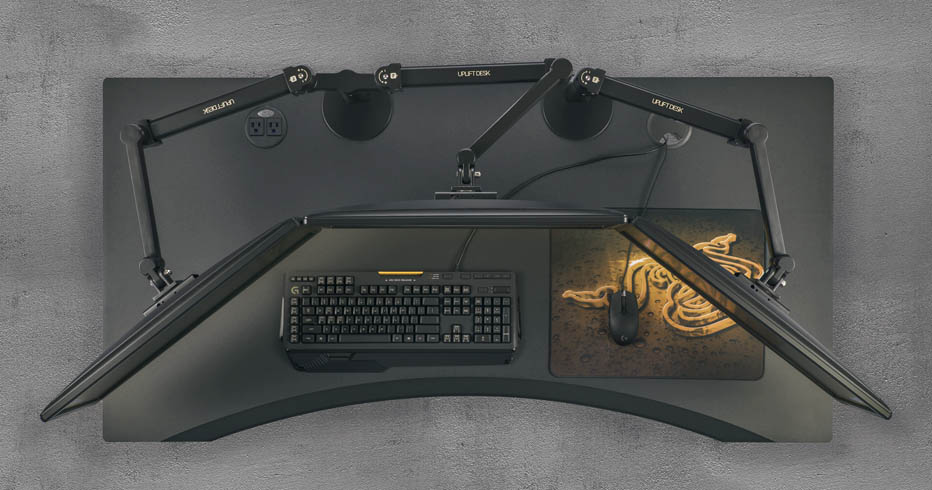 There's no doubt about it -- the workplace is changing. Bulky CRT monitors have given way to slim, sleek LCD monitors, and now those LCD monitors are beginning to multiply. More and more offices are realizing that having workstations with multiple monitors can help improve productivity, with many desks now sporting two or even three monitors.
Mounting multiple monitors in an ergonomically correct way can be quite a task, especially when using three monitors at once, as many workplaces now do. An ergonomic monitor arm for three monitors, or a dual monitor arm, is obviously the easiest fix. Here are a few examples that can accommodate a triple widescreen monitor setup.
One of our newest and most popular triple LCD monitor arm is the Innovative Switch Triple LCD Monitor Arm. The Switch system utilizes a simple to use pole mount with two folding link arms, one of which features a dual-monitor crossbar. The Switch can mount to nearly any surface thanks to a FLEXmount, which includes a clamp and other mounts, and supports three 15 lb monitors up to 22" wide. Should it be necessary, the Switch also makes it easy to convert your monitor arm into a single, double, quad, or even six-monitor system with the addition of little or no extra components.
For users taking advantage of the newer 24" monitors, things are slightly more complex. Due to the size of these displays, it's a little tricky trying to mount three monitors of that size horizontally. For this reason, we recommend using an Innovative 7500 Wing LCD Monitor Arm or a similar dual monitor arm in tandem with a single monitor arm such as an Innovative EVO II or a Humanscale M2. This will give you excellent height and depth adjustment for your monitors at a similar price point to triple monitor arms that would be unable to properly mount.
Have questions about the best monitor arms for your ergonomic office? We can help! Give us a call at 800-531-3746, send us an e-mail at info@humansolution.com, or click here to chat live with one of our ergonomic experts.