Posted by Tyler Reinhardt on Sep 28th 2017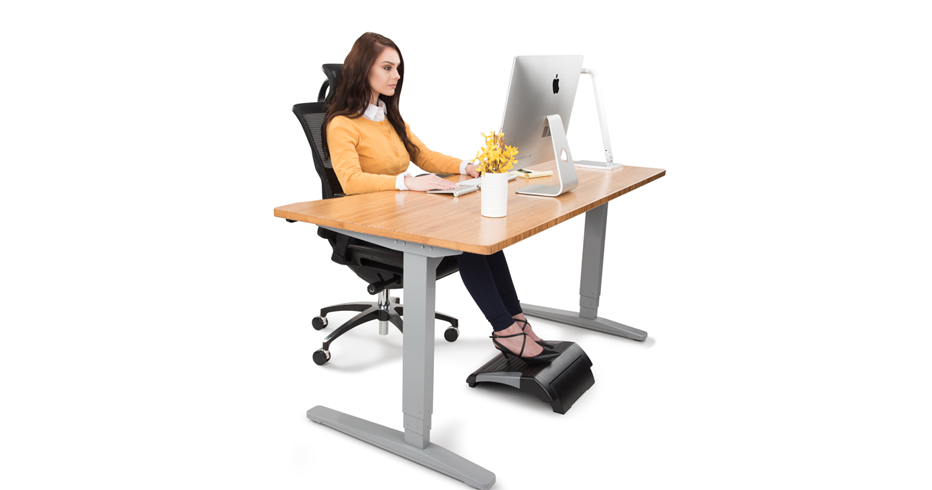 In the beginning was the desk. The centerpiece of the office. The place at which one sinks about 8-9 hours of their lifespan into a day. It was static, boring, soul-sucking, and terrible for your health. Nobody and no body was made to sit for over half of the day. Thankfully someone concluded along the way that this particular piece of furniture needed a major update. Thus height adjustable standing desks were born. These work-altering desks injected a bit more life into the office. They made the centerpiece of the office space more dynamic, healthier, and a bit more fun all by allowing people to change their position from sitting to standing throughout the course of the day.
But at UPLIFT, your desk is not the only thing we're trying to elevate. Have you ever slogged through a long workday wishing you could just take a minute, kick back, and put your feet up? Well now you can. The E3 Adjustable Footrest was designed to make sure that your desk isn't the only thing getting UPLIFTed. It's a foot elevating device that features four angle adjustments to ensure your comfort as you work. Adjust it to 6 degrees, 12 degrees, 16 degrees, or 25 degrees all by adjusting the folding legs located under the main platform. There's enough variety in the adjustment to fit most people and there are quite a few benefits to such versatility. Do you love your chair but find that you aren't quite vertically gifted enough to sit in it comfortably? The E3 Adjustable Footrest can help you make up the difference. Just adjust the angle to the desired setting and you'll be able to place your feet for that perfect 90 degree angle at the knees, all without your legs dangling and cutting off your blood flow. Of course if the application you have in mind is less of an ergonomic necessity and more of a nice office perk, the E3 Footrest foots that bill as well. It also features a grooved rubber surface to keep your feet from sliding and arrives to your door fully assembled so that you can put it to use right away!
The E3 Adjustable Footrest is just one of many new products by UPLIFT Desk designed to improve your comfort during the workday. The UPLIFT family of products is quickly growing and this little doodad is a welcome addition. As always, if this posting has left you scratching your head a bit, you can always give our team a call at 800-531-3746 and they'll be happy to fill you in. Happy foot-resting!