In the beginning was the desk. The centerpiece of the office. The place at which one sinks about 8-9 hours of their lifespan into a day. It was static, boring, soul-sucking, and terrible for your health. Nobody and no body was made to sit for over half of the day. Thankfully someone concluded along the way that this particular piece of furniture needed a major update. Thus height adjustable standing desks were born. These work-altering desks injected a bit more life into the office. They made the centerpiece of the office space more dynamic, healthier, and a bit more fun all by allowing people to change their position from sitting to standing throughout the course of the day.
But at UPLIFT, your desk is not the only thing we're trying to elevate. Have you ever slogged through a long workday wishing you could just take a minute, kick back, and put your feet up? Well now you can. The E3 Adjustable Footrest was designed to make sure that your desk isn't the only thing getting UPLIFTed. It's a foot elevating device that features four angle adjustments to ensure your comfort as you work. Adjust it to 6 degrees, 12 degrees, 16 degrees, or 25 degrees all by adjusting the folding legs located under the main platform. There's enough variety in the adjustment to fit most people and there are quite a few benefits to such versatility. Do you love your chair but find that you aren't quite vertically gifted enough to sit in it comfortably? The E3 Adjustable Footrest can help you make up the difference. Just adjust the angle to the desired setting and you'll be able to place your feet for that perfect 90 degree angle at the knees, all without your legs dangling and cutting off your blood flow. Of course if the application you have in mind is less of an ergonomic necessity and more of a nice office perk, the E3 Footrest foots that bill as well. It also features a grooved rubber surface to keep your feet from sliding and arrives to your door fully assembled so that you can put it to use right away!
The E3 Adjustable Footrest is just one of many new products by UPLIFT Desk designed to improve your comfort during the workday. The UPLIFT family of products is quickly growing and this little doodad is a welcome addition. As always, if this posting has left you scratching your head a bit, you can always give our team a call at 800-531-3746 and they'll be happy to fill you in. Happy foot-resting!
This product is currently available for pre-order only. Expected to ship in early October. Everybody likes to have stuff. Stuff is why you work for however many hours a day. You make that money. And then you buy stuff. The problem with accruing stuff is that it has a tendency to take up space. If you have a lot [...] Read More »
In the day and age of large open offices it's easy to forget that most small businesses starting out don't have the kind of capital for that kind of space. These businesses end up taking up residence in small office with limited space and in some cases, built in furniture. There's nothing worse than being stuck with a desk [...] Read More »
It seems like only a month since we celebrated a parent. And it was so nice we're doing it twice with the impending arrival of Father's Day. We still love Mom lots but this weekend Daddy gets a day to shine. And by shine I mean be showered in an abundance of gifts ranging from [...] Read More »
Here's a question we get a lot: What's the best monitor arm for a Mac? Human Solution has several different monitor arms that will work with Apple monitors, like the Apple Thunderbolt Display, Apple LED Cinema Display, and iMac. I've compiled a list of the monitor arms we like to recommend for Mac users because of [...] Read More »
You sit on the drive to work. You sit for a million plus hours at work. You get back in your car for the daily drive back home, where you will inevitably spend at least another 1-2 hours sitting, and that's just me being conservative. I'm not the best role model either. After 5:00 PM, [...] Read More »
The time of year is upon us when our homes are set upon by the terrors of the night. They come to us in the late night hours to feast upon our candies and haggle with each other over who gets the chocolate and who gets the candy corn. Yes, dreams and nightmares of the [...] Read More »
Ever been implored by someone to "have a heart"? It's not a difficult request. The majority of the human population today has a standard-issue one that they got at birth. The question is how healthy that heart is. If you find yourself consistently sitting for a large part of the day, the chances that your [...] Read More »
Put the tie away. Dad has enough of those and with Father's Day around the corner, you'll probably need a good alternative. Lucky for you I've got a list of items that'll make your Dad's special day a little more, well, special.1. UPLIFT Motion Stool: This one is a relatively new addition that's become a [...] Read More »
One of the most popular ergonomic keyboards trays we sell are Humanscale keyboard trays. When we say popular, we don't mean that they are a faddish or trendy- the reason these adjustable keyboard trays sell so well is their versatility and build-quality.Humanscale keyboards tray systems have a lead time of 5-7 business days for a [...] Read More »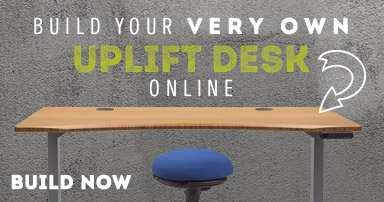 Interested in ergonomics?
Subscribe to our blog mailing list