Posted by Human Solution on Oct 28th 2014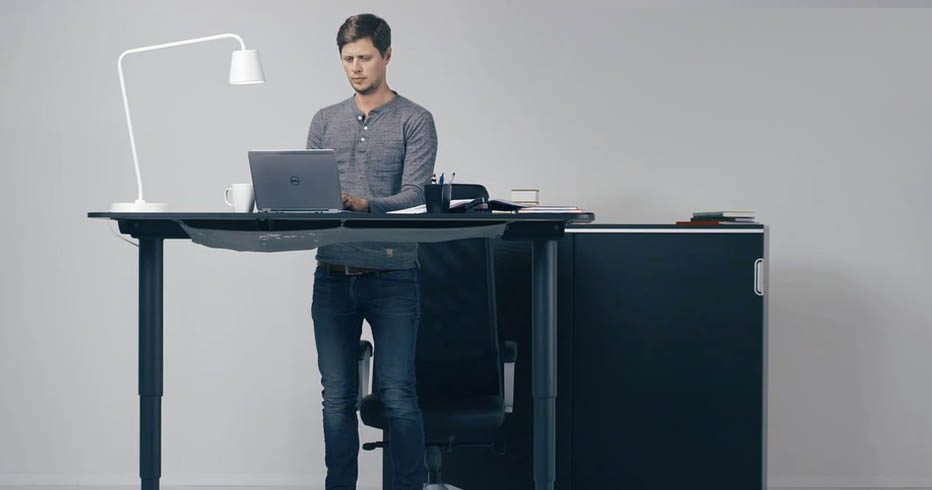 With Ikea experiencing a three-month delay on Bekant, this will be a review of the features offered on Ikea's new electric sit/stand desk in comparison with the UPLIFT 900, our similarly priced and best-selling adjustable height desk.
It's become increasingly clear that calling standing desks a "fad" is as short-sighted as the people in the 1990s who dismissed cell phones and the internet as in-the-moment trends. Standing desks are here to stay and, as such, we've seen a huge rise in the number of standing desks of all shapes, sizes, and types. And now, jumping into the fray is one of the largest furniture manufacturers in the market. Yes, the noted meatball and lingonberry advocates at Ikea have created a standing desk called Bekant! A standing desk is a big investment; is Bekant worth the expense?
At first glance, Bekant seems like an excellent deal. Its most notable feature is its price; at just $479, Bekant fits with Ikea's other offerings in terms of affordability. The 22" to 48" height adjustment may stop a little short for users over 6', but it does provide a broad range of settings. Electric height adjustability, using a motor in the legs and an up/down switch, is definitely preferable to the pneumatic or crank-operated alternatives, and easy operation is the best way to make sure that you regularly switch from sitting to standing throughout the day.
Unfortunately, however, there are a number of drawbacks to Bekant that keep me from recommending it. Like other Ikea products, Bekant lacks flexibility or configurability. The desk is only available in a couple sizes, with a fixed width crossbar that fits only the top that comes with it. For comparison's sake, our most popular model, the UpLift 900, has a telescoping crossbar that fits with any desktop from 43" to 96" wide. We even work with people to find ways to make the 900 work with desks that are deeper than 33" or shallower than 27". In addition to having a limited number of sizes, Bekant's top options are limited to Ikea's somewhat plain looking laminates. The 900, on the other hand, is available with desktops that range from standard laminates to beautiful real wood. It's available in practically any shape or color you can imagine. If none of that works, you can save money and order the desk base by itself and put your own desktop on it!
Oh, and speaking of money, what about the price difference? Well, while Bekant's starting cost is a mere $479, you'd better hope that you live near an Ikea retail location and are in the mood to touch the void while fighting through a sea of screaming children and maze-like store design, because otherwise, you're going to have to pay Ikea's steep shipping fees. The UpLift 900, on the other hand, comes with free shipping to the continental 48 states. Then there's the cost of your time; even if you fight your way to the end of the Ikea with your sanity intact, you still have to build Bekant. Unlike Ikea's famously avant-garde instructions and complex assembly steps, the UpLift 900 is has clear instructions and is easy to build in about an hour. There's even a video showing how easy it is to put it together! And, if you are having issues or need replacement parts, good luck getting on the phone with someone at Ikea. By contrast, our experts are standing by from 8 AM to 7 PM Monday through Friday and 10-6 on Saturdays, prepared to help you with any issues that come up with your desk. Most problems only take a couple minutes to resolve, but in the event you need new parts, the warehouse is right here in Austin, Texas, and we can usually ship your replacements the same or next business day.
And this is just scratching the surface. Bekant is missing the memory keypad that comes standard with all UpLift 900s, not to mention that UpLift's motor is the most reliable on the market, having been tested for 20,000 cycles without failing. While both desks come with ANSI/BIFMA certification, only the UpLift 900 is also CPE-approved. And, best of all, the UpLift 900 has the options to give you a complete ergonomic set-up. Need casters? Extra power outlets? A keyboard tray or monitor arm? We've got you covered. Do you only trust people who are able to both sell furniture and cook meat? Well, I can personally confirm that the THS barbeque team makes excellent brisket. Am I biased because I wrote this entire blog post at an UpLift 900? Perhaps (although, to be fair, I also have my share of Lack tables and Orgel floor lamps at home). But in the end, the cost savings on Bekant simply don't equal the features you'd be giving up.
Its not just our opinion too. Take a look at this testimonial from a Human Solution customer:
I was excited that IKEA came out with a low cost sit/stand desk. Trouble is they can't keep them in stock. Frustrated I started looking for an alternative...and found the uplift 900 at thehumansolution.com. Very similar price considering I would have paid shipping at IKEA. Better controller, added the casters...and bonus...it's in stock! Web site was very good...spent two days obsessing over whether to buy or not. Read everything, compared to every option, and think I will be very happy with this. Note: Added bonus - one of few options where I could order legs only. I was told at IKEA that ordering legs only voided warranty, so I was going to pay for unneeded desktop just for warranty.
For more information on upgrading to a sit/stand desk, visit TheHumanSolution.com.