Posted by Human Solution on Feb 24th 2012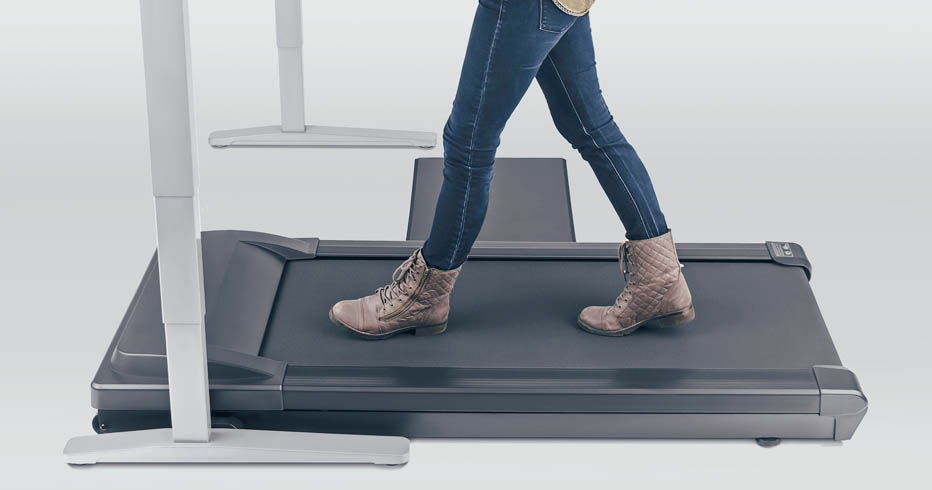 Bring your healthy lifestyle with you to work, or take the first step towards starting a healthier lifestyle by introducing the UPLIFT Treadmill Desk into your daily routine. Human Solution has been a big proponent of adjustable height desks for years thanks to all of the lives they have helped change. By shifting between sitting, standing, and walking, you reshape the way you interact and move (even think) throughout the day. And, since you're already at your desk, adding an UPLIFT Treadmill Desk leaves you with no excuses to remain sedentary.
Frequent and varying movement helps to increase alertness and energy, resulting in strengthened and toned legs, back, and core. Users also enjoy more restful sleep and reduced pain thanks to constantly engaging their body in light physical activity. Using the UPLIFT Treadmill desk will also help burn hundreds of calories per day. Raising your desk surface on command may seem like a radical new way to approach your work space, but, considered in the context of ergonomic principles, it makes the most sense.

Here are the building blocks for the Uplift Treadmill desk: The UPLIFT 900 Sit-Stand Desk is equipped with an agile electric motor capable of raising the desktop at a rate of over an inch a second. The desk may go as low as 23.5 inches or as high as 50.5 inches and may be set anywhere within this range allowing for minute changes to find that perfect height.
The Lifespan Treadmill is low-profile, hugging the ground and offering a detachable control panel that may be placed wherever is most convenient on the UPLIFT's spacious desk surface. The control panel has a large visible display with over-sized buttons so you may quickly and easily assess your progress. An emergency shut-off cord that clips to your clothes from the display ensures your safety as you walk.
While the treadmill is capable of speeds of up to 4.0 mph, we recommend speeds below 2.0 mph while working or typing. Used correctly, however, you'll find you are more alert, more energetic, with your attitude uplifted — all the advantages of exercising. Don't be surprised if you find yourself walking anywhere between five to twenty miles a day.
The UPLIFT Treadmill Desk is a potent package ready and waiting to change your life, one step at a time.
If you have any questions, give us a call (800-531-3746) or drop in chat. You may even have a Certified Professional Ergonomist visit your work place and offer personalized advice, suggestions, and solutions to improve the ergonomic livelihood of your work space.
Visit TheHumanSolution.com to build and customize your treadmill desk.