Posted by Tyler Reinhardt on Feb 26th 2018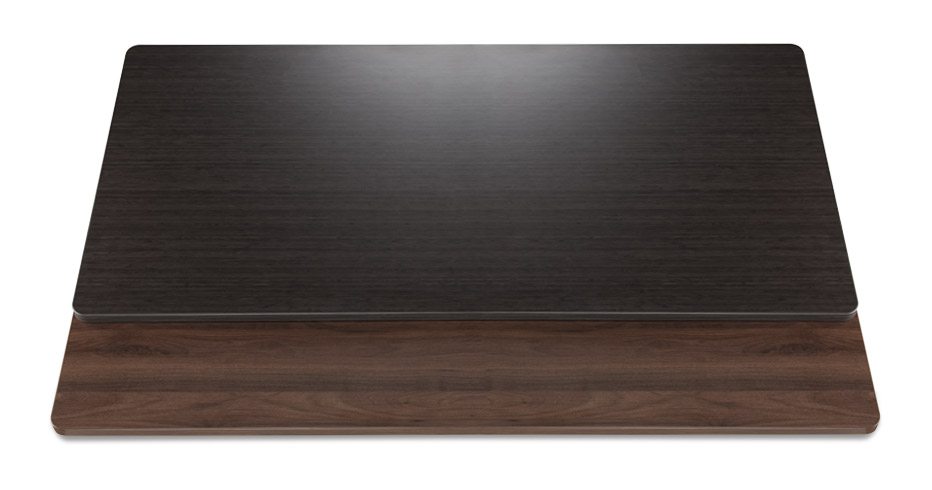 Behold the magnificent creature that is the UPLIFT Height Adjustable Sit Stand Desk, available in numerous flavors ranging from the standard laminate fare to the more luxurious solid wood desktops. UPLIFT is the desk that lets you sit. It's the desk that lets you stand. And most importantly, it's the desk that lets you work while doing either, which is great when you need a break but you also have a deadline. As a writer of company blogs, I have great appreciation for this core capability. But as products become more and more popular, everybody wants more options to choose from. Luckily, UPLIFT Desk aims to satisfy on all fronts.
Those familiar with the UPLIFT Desk know that the base model consists of our UPLIFT Desk frames attached to one of our GREENGUARD Gold Laminate tops. You could go simple black and white with the Eco desktops. Or, if you want a little more color, there are wood patterns in the extremely popular maple, mahogany, and cherry in the GREENGUARD Gold laminate. It could be the GREENGUARD Gold Certified laminate designs or the super affordable price point, but whatever the reason, these guys regularly fly off the shelves.
The original options for GREENGUARD Gold laminates consisted only of those cherry, maple, and mahogany colors, all with very attractive wood finishing. But, as the desks have gained more notoriety, we've been seeing more and more requests for additional colors. This brings me to our exciting new laminate updates. This new selection will include the old maple and cherry staples, but GREENGUARD Gold Certified black and white will also come into the fold, along with two brand new colors: ash gray and walnut. This more than doubles the number of laminate finish options available, and offers versatility for a wide array of contrasting office decors. These new desktops also boast a modern aesthetic with softly-curved edges instead of sharp 90 degree angles, making them a little less jarring if you should accidentally bump into them.
You may have noticed that mahogany is not among the new color options. Sadly, while we love mahogany dearly, that color will soon be going into retirement. But don't worry! As was the case in the past, you can still request custom laminate colors by contacting us directly .Give us a call at 800-531-3746 and one of our Sales Pros can get you a quote for a custom color in almost any Wilsonart laminate. They won't be the same GREENGUARD Gold Certified laminate as our usual tops. Custom tops also take a bit longer to construct and don't come at the same awesome prices, but if the result you're looking for is a beautiful desk in a less conventional color, we can still help out. If you want to keep things quick and affordable though, make sure to step up and take a look at our new GREENGUARD Gold laminates!