Posted by Will Moore on May 5th 2016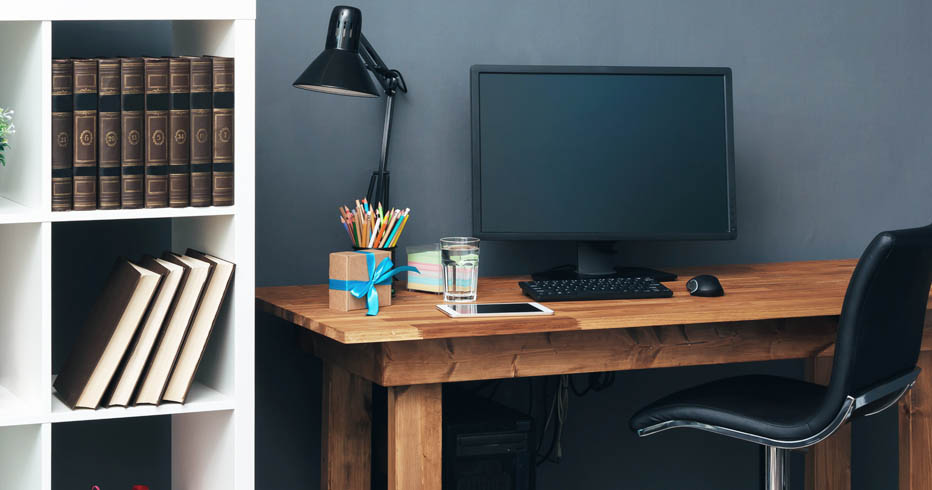 So you're looking into getting an ergonomic keyboard tray setup for a decidedly non-ergonomic desk you already own, and you're running into a problem. A problem you're finding it difficult to find a solution for, or even how to describe.
We've heard it numerous times, in different ways. Your desk has a front "lip." It has a "protruding edge." It's "thicker in the front." (That one's my favorite.) Basically, you have a desk where the front edge is just a little thicker (or maybe even a couple of inches thicker) than the rest of the work surface. Most people will call this the "lip" of the desk, but that certainly doesn't help much in your online search for a solution— try searching "desk with lip" on Google and you get some fun results, especially in Google Images.
Really, the best solution to this problem is the simplest one—to install a piece of wood under the desk with the track mechanism of whatever keyboard tray you get so that the tray is lower and can clear the lip. Of course, you'd have to make sure you use a piece of wood that will keep the track level and ensure the tray clears the lip properly. Luckily, we offer a solution specifically designed to combat this problem: the Keyboard Tray Mounting Spacer, which attaches between the work surface and the mounting track. The spacers come in varying lengths and thicknesses to meet your specific desk's needs. So even those whose desks aren't exactly keyboard tray friendly can enjoy the reduced stress and increased productivity that having your keyboard at lap level provides.
So now you need to know which keyboard tray will best work with this setup. One brand we like to steer people towards is Humanscale model keyboard trays. They're one of our most popular, mostly for their movement and versatility. Either the 900 or the 500 model would be a good fit with most desks, and you're going to want to pick a track mechanism that will work best with that pesky lip.
Luckily, all of the Humanscale track mechanisms adjust anywhere from three to five inches below the track, so that will help getting the tray past the lip of the desk. But the track itself will be a little lower with the spacer, so you may want to opt for the Above-Desk (AD) track, so that after it clears the lip you can adjust the tray up a bit and have it at the proper ergonomic level.
If the Humanscale Keyboard Trays are a little steep for you, you may want to go with either the UPLIFT Large Keyboard Tray or the UPLIFT Switch Keyboard Tray. Both have the same quality and functionality of the Humanscale Keyboard Trays, but they have a little more style and won't break the bank.
So don't fret, my lipped-desk friend. You don't have to go on placing your keyboard on the desk surface, resulting in you raising your shoulders and reaching too far. This, of course, can have disastrous physical results down the line if you spend any significant amount of time working in this position.
But then again, if you're already looking for a keyboard tray, you know this. In fact, if you're seriously concerned about the ergonomics of your work space, I would suggest getting rid of that desk altogether and going with one of our sit-to-stand desks like the UPLIFT Height Adjustable Desk. Or, if you enjoyed the aesthetic qualities of Old Lippy and want that in a more ergonomic and keyboard tray friendly sit-to-stand desk, our Solid Wood Height Adjustable Desk might be just what you're looking for. It has all the adjustability of a regular sit-to-stand model, but with a beautiful, all-wood tabletop. Also, the single-crossbar base design makes for easy placement of your keyboard tray.
And it's lip free.