Posted by Human Solution on Jun 9th 2010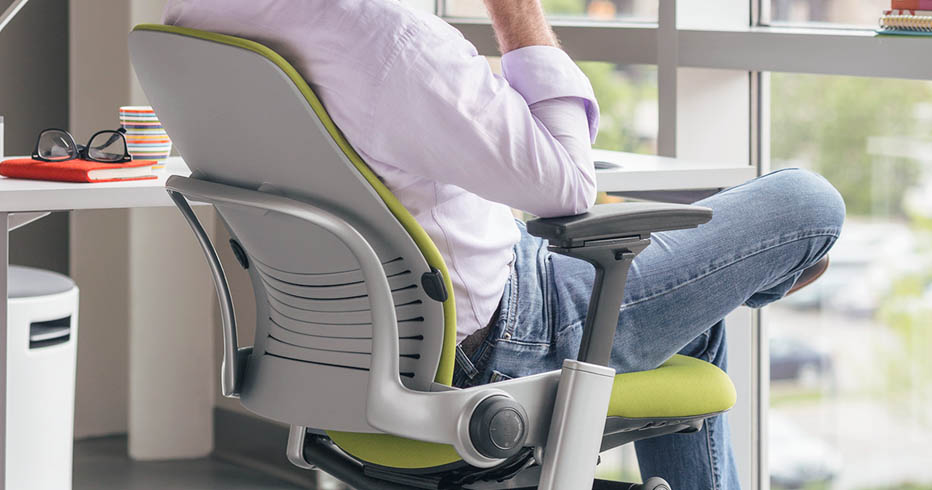 As a relative newcomer to the Ergonomic Chair market, I've recently been looking at a couple of different chairs to purchase for my home office. After looking at all the different offerings out there, I've narrowed it down to two options, the Humanscale Freedom Chair and the Steelcase Leap Chair. Why these two chairs, aside from the names promoting positive imagery? There are several good reasons.
Steelcase and Humanscale are seen as leaders within the ergonomic chair market. Both companies have won numerous awards both in design, ergonomics and functionality which is a huge plus. I have seen Humanscale Freedom chairs featured on such hit TV shows as "House" and "How I Met Your Mother", and the Steelcase Leap Chair has been featured in "Dexter" and "Three Rivers". Thus, their respective popularity and craftsmanship shows me that I'm on the right track.
Technically speaking, the Steelcase Leap Chair and the Humanscale Freedom Chair are similar on several key features. Both chairs have a large degree of lower back support (allowing a constant amount of pressure on your lower spine to help maintain the natural curve). The chairs also have similar dynamic motion mechanisms that work with a user's weight and react to an individual's movements or postures, making for a comfortable seating experience. Finally, they both feature a high level of adjustability and have comfortable seats that accommodate a wide range of users.
There are also several major differences in the chairs. The first difference is the Steelcase Leap Chair's Liveback technology, which moves with a user's back and comes standard with customizable lumbar support. You can quickly adjust the amount of support (or contour) the seat back provides; once set, the Leap chair back will continually react to changes in a seated posture (hence the name "Liveback"). The Liveback is unique to the Steelcase Leap Chair; no other chair offers it. The Leap mechanism lets you lock the Leap chair back in place; this is handy as you have a broad range where you can lock the chair back to keep it in a specific recline or upright position. The Freedom Chair's counter-balance reclining system cannot be locked; the angle is held into place by the user's body.
Another big difference is that the arms of the Leap can individually telescope in/out, forward/back, and are height adjustable to allow support for the arms, shoulders and upper torso. This wide range of motion places the arms exactly where they need to be for almost anyone. While the Freedom Chair's arms have a wide range of adjustability, the drawback here is that both arms have to move in unison and, while they are available with an inward pivot motion (the advanced arms), they don't offer the same placement options. The Leap Chair also utilizes a technology called Thermal Comfort, where slats in both the chair back and the seat are used with special foam to provide an extra element of breathability. A lot of customers are concerned about how "hot" a chair can be, so this is worth mentioning. Finally, the Freedom chair has a position sensitive headrest that moves forward when you recline and out of the way when sitting upright. This unique feature keeps your head in perfect monitor viewing position - again a feature you'll find in no other chair on the market.
So having narrowed down my field to the two contenders, what choice do I make? Do I go with the Steelcase Leap with its Liveback technology and "breathability" elements, or the Humanscale Freedom Chair with its dual pivot backrest, unique headrest and self-adjusting recline? Give me your thoughts.