Posted by Tyler Reinhardt on Nov 10th 2017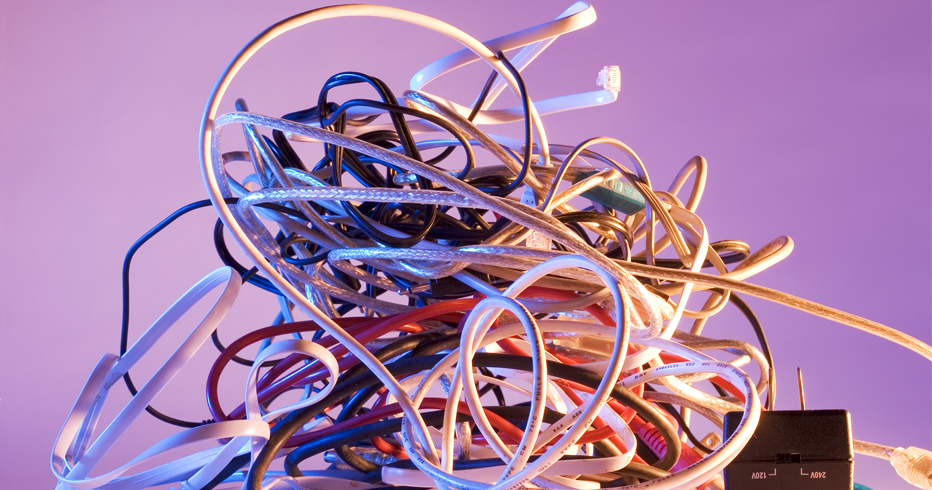 If you've ever seen a rat's nest, it's kind of a hodge-podge of mess. A few bits of fur here, a few pieces of grass there, and all of it pulled together by a tasteful wad of mystery material that somehow through the power of rat magic is stronger than steel. It's impressive in its own way but aesthetically, it's not the most pleasing thing to look at. Much like the wily rat and his nest, we as denizens of the office are want to have our own little happy spaces which, typically in an office setting, have a lot of electronics. Those electronics are powered by electricity which inevitably means that there will be wires. Lots and lots of wires. The problem with having lots and lots of wires is that wires have a tendency to criss-cross and tangle around each other, forming a mass reminiscent of our friend the rat and his happy home. How does one straighten out this tangled bag of snakes? With proper wire management. Luckily with UPLIFT, that's not hard to find.
The most basic of wire management options brought to you by UPLIFT Desk is the UPLIFT Desk Basic Wire Management Kit.This kit includes all of the basics that you need to organize your wires and cables, including:
10 adhesive cable mounts, which stick to the underside of your desk (we recommend sticking them to the metal of the frame for best results) and keep your cables from hanging down.
12 screw-in cable mounts for when the cables you're mounting need a little extra support.
12 reusable cable ties to wrangle your wire masses into manageable strips
1 cable organizer which has a similar function to the cable ties
1 wire funnel which makes using the cable organizer infinitely easier
1 accessory hook on which you can hang things
1 handy 6-outlet surge protector for some extra outlet space
The kit also includes the option to add the UPLIFT Clamp-On Surge Protector as an option if you find yourself in need of even more electrical outlets and some USB ports to charge your phone. When used to its fullest potential, the Basic Wire Management Kit will give you control over your out-of-control wire situation and if you've gone and purchased an UPLIFT Height Adjustable Standing Desk, transitioning your desk from sitting to standing won't cause your cables to stretch or snag, insuring that all of your devices stay plugged in where they should be.
Of course, you're not limited to just the Basic Wire Management Kit. UPLIFT has some other wire management kit options that include just a couple of extra bells and whistles for set ups that need just a bit more managing. These options include the Advanced Wire MGMT Kit, Ultimate Wire Management Kit , Wire Management Tray if you just want the barest of minimums, and the UPLIFT Desk Modesty Panel & Cable Management which is a similar idea to when your mother asked you to clean your room and you threw everything under the bed. These as well as more wire management options can be viewed here on humansolution.com or if you're looking for even more ideas for your office work-nest, feel free to give our reps a call at 800-531-3746 for some suggestions!