Posted by Mandy Spivey on Jul 11th 2018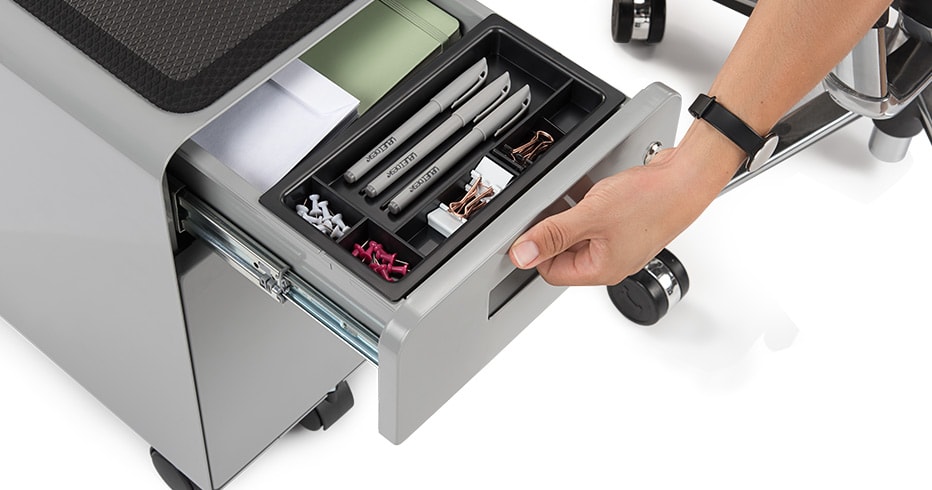 Cubicle dwellers, open office users, and people with less-than-ideal storage space, lend me your ears! There are storage options out there for you, starting with the Narrow 2-Drawer File Cabinet with Seat by UPLIFT Desk.
Much like the 2-Drawer File Cabinet by UPLIFT Desk, this cubic beauty features a narrower design, which allows it to fit in more spaces. If your work area is less wide than your arm's wingspan, you know what it's like to have to work with less space than you need. And if you have decor, papers, and personal items, your space gets reduced even more. When space is a premium in your work area, give yourself a multifunctional storage/seating option that allows you to work better.
How to Work Better (with Better Storage)
If you're wondering how implementing better storage can actually help you work more productively, we can explain a few of the ways it helps. Clearing off your desktop might feel like simple Spring Cleaning, but it actually helps you work better by giving you a clean space to work. Not only that, when odds and ends are put away, the mind is less likely to get distracted by clutter, so you can focus better on the task at hand and not the pile of folders on your desk. And with your personal things tucked safely away within its two locking drawers, you can rest assured that your purse, wallet, and other personal effects are protected when you're working.
You'll get a spacious bottom drawer that is sized to hold paper, folders, and larger items like purses. A soft-close top drawer takes over storing your smaller items, and comes with a removable accessory tray to sort pens and paper clips.
And if you haven't noticed the cabinet's comfortable cushion yet, take a look! You'll be glad to know that this storage cabinet also doubles as a side seat for short-term sitting, making it perfect for impromptu meetings. It comes with a removable pad and adhesive that can be washed and reused, so you can remove the cushion to allow for more traditional storage.
Portable thanks to locking casters, its attractive rounded design fits in seamlessly with a large variety of office styles. Add to that the multiple finish options you'll get, and you'll have the perfect amount of storage that's easy on the eyes and matches with your UPLIFT Desk accessories.
Find the Right Fit for Your Space
This is just one of the newest storage offering from UPLIFT Desk to help you work better and live healthier. If you're interested in a larger storage cabinet, shop our 3-Drawer File Cabinet by UPLIFT Desk or the Slide Out Office Storage Cabinet by UPLIFT Desk if you need a little more space than what you see here. Need help? Reach out to us via call, email, or chat and we can help you choose the right storage option for your stuff and your space.