Quick Ship Adjustable Height Desks: The Best Things Come to Those Who Can't Wait
Quick Ship Adjustable Height Desks: The Best Things Come to Those Who Can't Wait
"Patience is bitter, but its fruit is sweet." – Aristotle
That Aristotle was smart and all, but he never had to spend ten hours slumped over at a fixed height desk in front of a computer. We here at Human Solution realize that some people's needs to transform their workstation into an ergonomic one may be immediate, and you may not be able to wait a month or longer for a new adjustable height desk, which can be the standard lead time for some of our ergonomic desks. Maybe you suffer from pain issues or repetitive stress injuries and can't wait any longer to address them, or maybe you just need to quickly outfit a new office and want your employees to reap the health benefits of a sit-to-stand workstation. Whatever the reason, you need a desk now. You're probably aware that we stock accessories like keyboards and mice for quick shipment, but did you know this same quick ship program extends to full, adjustable height desks?
We have a few models that ship in less than a week, and even some that can ship within one business day! Our recommended UPLIFT series of electric adjustable height desks has several laminate models, like the value-priced pedestal-based UPLIFT 450, that generally ship in three to five business days. We also stock a laminated butcher block top for our top-of-the-line UPLIFT 700 and 800 bases, which are the quickest, quietest and sturdiest electric height adjustable bases we offer.
However, you may have your eye on our beautiful, handcrafted wood tops that we pair with our UPLIFT 700 and 800 bases. Because each top is real wood harvested and made to order by a local woodworker here in Austin, Texas, these generally take about three weeks to make and ship out. But due to high demand, we now stock pre-made wood tops in some of our most popular wood types and sizes. You can check out our Texas Native Wood Electric Sit-Stand Desk quick ship page to see what we have in stock, or give us a call for the most our most up-to-date inventory (800-531-3746).
There are numerous health benefits associated with getting rid of that regular desk and upgrading to an adjustable height, sit-stand desk, including fighting off an early death, and the sooner you can get up at your workstation, the more immediately you will begin to see these benefits. The aforementioned options and more are available on our Quick Ship Adjustable Height desk page, though the best way to see what we have available and talk to an expert is to give us a call at 800-531-3746, hit us up in live chat, or email us at info@thehumansolution.com. Aristotle may have extolled the virtues of being patient, but when it comes to your health, I prefer to look to the words of renowned philosopher and chocolate egg enthusiast Veruca Salt: "I want it now!"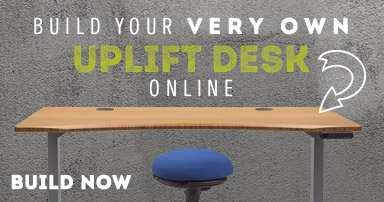 Interested in ergonomics?
Subscribe to our blog mailing list