Posted by Human Solution on Aug 6th 2016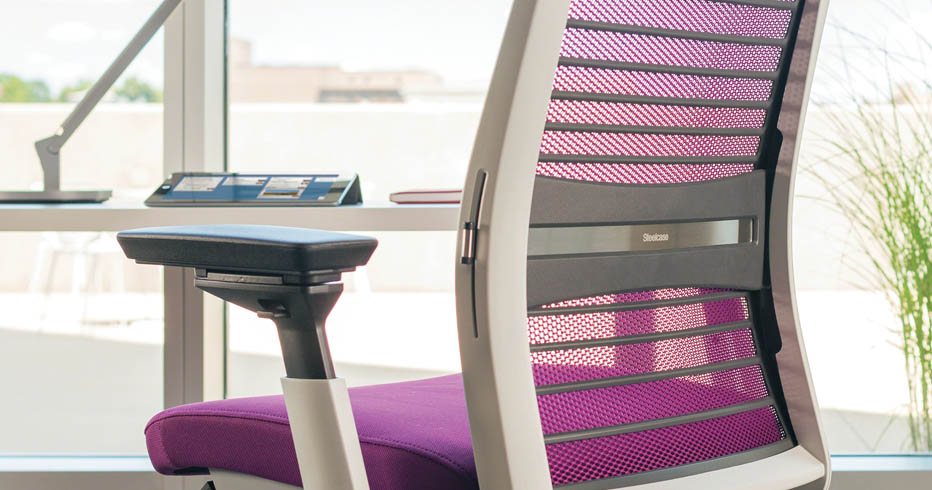 The other day on my way home from work, the temperature gauge in my car read 111. Once home, I was greeted by the plants on my balcony scratching at the door in the hot wind like Sarah Connor on Judgment Day. Summer has most definitely arrived, and keeping cool in such extreme heat can be difficult, miserable even, especially if the heat follows you inside and nestles into your office chair.
Mesh chairs have traditionally been the default choice for those that tend to feel too hot in padded foam chairs since they promote airflow throughout the seat and back. One of the most popular ergonomic mesh chairs on the market is the Raynor Ergohuman Chair ME7ERG, which has a positional lumbar support, a synchro-tilt mechanism, and an adjustable headrest.
The three-way adjustable armrests and seat slider offer support for a variety of tasks and users — a feature usually exclusive to pricier ergonomic chairs, but one that comes standard on all models of the Raynor Ergohuman. For its value, numerous vital adjustments, and lifetime warranty, you'll be hard-pressed to find a comparable mesh chair.
However, while mesh offers a considerable amount of circulation, we recommend a chair with a padded seat for all day use. A mesh seat should be used for no more than five or six hours per day, otherwise you may experience painful pressure points as a result of the mesh's possible inability to evenly distribute your weight. A cooling ergonomic chair we recommend for all day use with a mesh back and a cushioned, upholstered seat for a hybrid of support and breathability is the Steelcase Think Chair with 3D Knit Back, which puts an ergonomic spin on the mesh back. The 3D Knit back has rows of unique back flexors that respond to your movement for a happy medium between dynamic support and air circulation. So, while you're cooled by the thick mesh, you also have the malleable support of the metal flexors, making this a hybrid mesh chair to be reckoned with.
Another of the mesh chairs that has come to be loved by our customers is the Humanscale Diffrient World Chair which offers some of the simplest, most dynamic support of any chair thus far released by Humanscale. This chair is available with either a mesh or padded seat and a mesh back. The mesh back offers sturdy support designed to hug your back for enveloping support complete with the cooling effects of air circulation. The frameless front seat edge ensures you're not troubled by contact stress under the thighs eliminating potential pressure points that could disrupt circulation in your legs. What really makes this chair unique, however, is its mechanism-free recline that provides automatic, balanced support throughout the full range of recline with recline tension that instantly adjusts given the resistance of your body. By adding a Diffrient World Chair to your office, you'll feel cool in more ways than one.
One possible drawback to mesh is the lack of proper cushioning to prevent fatigue after a handful of hours. The ergoCentric airCentric Chair has nearly 70 ventilation holes throughout its foam padding for the perfect harmony of support and airflow. Outfitted with approximately 70 air vents throughout its padded seat and back, the ergoCentric airCentric Chair offers the best of mesh and foam padding and, what's more, the chair is completely customizable, so you'll not only feel cooler, but more comfortable after building the chair to fit your needs and preferences.
If you need help deciding which approach would be best for your situation, what airCentric chair configuration would be best for you, or if you just feel up for a chat on the basics of building an ergonomic workspace, please visit us at Human Solution, call us at 800-531-3746 or find us on our live chat. Our entire team has been trained in ergonomics by our in-house Certified Professional Ergonomist, and we all have at least one Texas summer under our belts, so we're also masters in oppressive heat avoidance.