A few months ago I started working for a great company that has a pretty big focus on office ergonomics. This makes perfect sense considering that's kind of the thing we're in the business of providing. And one of the many perks of working for such a business is getting to play with all of the new hip gadgets before they hit our shelves. One such gizmo is currently living on my keyboard tray. Say hello to the new Goldtouch Wireless Ambidextrous Mouse, also known much more technically as the model KOV-GTM-100W.
The first thing you'll notice about this mouse is just how shiny it is when it pops out of the box. After you are no longer distracted by said shininess, you will also notice that this mouse has no defined design for one hand or the other. It's almost a perfect oval, similar to a traditional mouse. This allows the user to use either hand for mousing. So when one hand gets tired, you can feel free to switch over to the other. It actually didn't take that long to get used to mousing with my left as well as my right, and it's nice to give a busy mouse hand a break every once in awhile.
Another thing you'll notice is that your new wireless mouse is indeed sans wire. Just like the box says. So, you may be wondering how the mouse interacts with your computer. The answer is a mixture of technological voodoo and the receiver found conveniently enough in a little port on the underside of the mouse. The best part is that once you plug the little guy in, there is hardly any installation. You'll be good to go in about a minute or two so you just need the bare minimum of patience.
Overall, I enjoy this one. It's different from many of our other brands such as the Evoluent, which eases strain by angling the mousing hand and arm. The Goldtouch Wireless Ambidextrous Mouse doesn't just reposition your arm. By switching off mousing hands, you're giving your hand a breather while you work with his lazier, but now less so, sibling. If you've been considering giving ambidextrous mousing a try, this is the mouse to get.
If you are looking to purchase one of our popular chairs or keyboard trays, you may have noticed that we offer the Goldtouch Go! Travel Notebook and Tablet Stand as a free promotional item. This usually prompts the same question: What is this thing, and why do I want it? This little piece of plastic [...] Read More »
An important element of ergonomics is proper use and positioning of your computer. That's why we spend so much time extolling the virtues of monitor arms, keyboard trays, and CPU holders. But these products, though wonderful, ignore a large population, one that I count myself a member of. I'm referring to those of us who [...] Read More »
Not only will you get great customer service when buying from us, but we also offer a free Goldtouch Go! Travel Notebook and Tablet Stand when you purchase certain ergonomic chairs! This includes most of our top selling brands like Humanscale, Steelcase, and Ergohuman. Why would you want a free laptop or tablet stand? [...] Read More »
The Perry-Castañeda Library, a.k.a. "that place every Longhorn spends a ridiculous amount of time at during midterms." Bring an ergonomic keyboard and mouse. (Photo: Wally Gobetz/Flickr)Austin is a place known for many great things - good food, good music, good beer - but to me, it'll always be the home of my beloved alma mater, [...] Read More »
When people think of ergonomic computer accessories, the ergonomic keyboard is often the first thing that comes to mind thanks to the distinctive shape of classic examples such as the Microsoft Natural Keyboard and Kinesis Advantage Contoured Keyboard. Modern ergonomic keyboards have changed significantly since then, with many designs opting for a more low-profile design [...] Read More »
It might be hard to believe, but WWDC 2014 is right around the corner, bringing with it news of an updated Mac OS X and (hopefully) new information on Apple's 2014 hardware lineup. With rumors of a new, low-cost iMac already circulating, it's a great time to consider preparing your ergonomic workstation for the latest [...] Read More »
Since we tend to focus more on the bigger things like a sit-stand desk or a great chair for an ergonomic setup here at Human Solution, the little upgrades that truly complete your workstation can sometimes get overlooked. For those who already have one of our UPLIFT height-adjustable desks and are looking for something extra [...] Read More »
Think about traditional stocking stuffers you have given or received. How useful are they? And I'm not talking practical, like a pair of socks, or a dollar store manicure set. I'm talking about something that you would actually use every day. Well, spare yourself long lines, holiday traffic and pushy shoppers, because we have the [...] Read More »
The Cricket Laptop Stand, pictured above, can help alleviate eyestrain and neck pain while using a laptop or a mobile device like an iPad.For many people, the classroom is the last place they would think of as being "ergo friendly." It's not easy for students to set up an ergonomic work space in the classroom. [...] Read More »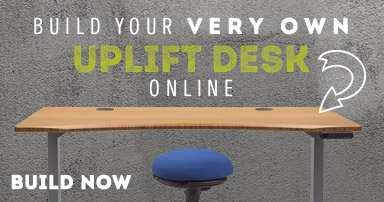 Interested in ergonomics?
Subscribe to our blog mailing list