Height Adjustable Standing Desk
New products and redesigns abound this year meaning a lot of new changes to some old fan favorites. The UPLIFT Desk laminates, for instance, are getting a bit of an overhaul. With their affordable pricing and gorgeous aesthetic, it's no surprise that they're one of our top selling configurations. The GREENGUARD laminates have been a part of the UPLIFT family for awhile and later this year, they're getting new colors and a slight design update. This means more options as you go through your desk builder. Those who are familiar with our desk builders on the THS website are probably aware that the laminate listing not only includes the GREENGUARD laminates but also the Eco laminates as well. The Eco laminates are just as affordable and beautiful as the GREENGUARD laminates but they're not quite the same. In fact, to make way for the new GREENGUARD designs and keep our desk builder pages streamlined and easy-to-use, the Eco laminate desks will soon be getting their own page on THS!
So how are the Eco laminate desks different from the GREENGUARD laminate desks? Well, the GREENGUARD laminate is made through environmentally friendly processes. The core is made of a 45 lb density particle board which is wrapped in a wood print laminate. The edges are made with a 3mm PVC edge which does have a bit of a seam. The Eco Top has a core that is made of 100% recycled MDF that is then powder coated and cured under UV light giving the top a smooth, seamless finish. Both tops are similar in functionality. The main differences are mostly aesthetic.
The move to give these two their own listings is good news for a couple of reasons, for one thing, it means that you'll now be able to order the GREENGUARD laminate design in black and white if you have a preference for it. It also means that the desk builders will stay simple and streamlined, rather than cluttered with options. In a lot of ways the move makes sense but if you find yourself with questions that need answering, feel free to call our reps at 800-531-3746 for all the clarification that your heart desires.
In the day and age of large open offices it's easy to forget that most small businesses starting out don't have the kind of capital for that kind of space. These businesses end up taking up residence in small office with limited space and in some cases, built in furniture. There's nothing worse than being stuck with a desk [...] Read More »
'Tis the season for hamburgers, hot dogs, colorful sky explosions, and shivering doggies that are not at all digging the aforementioned aerial detonations. It's interesting to think that this holiday that America celebrates every year is the product of a few men and a new nation that decided to take a stand. Here at Human Solution, we're all about taking [...] Read More »
Remember that Buzzfeed article called 34 Things Austinites Love, or did that only make the rounds of your Facebook feed if you're in Austin? While there were some questionable statements on that list (The Robinsonian at Tyson's is heads above Torchy's and Tacodeli's breakfast tacos, IMHO), there was one notable item left off: Austinites love [...] Read More »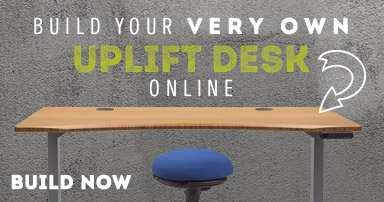 Interested in ergonomics?
Subscribe to our blog mailing list