Posted by Tyler Reinhardt on Sep 12th 2017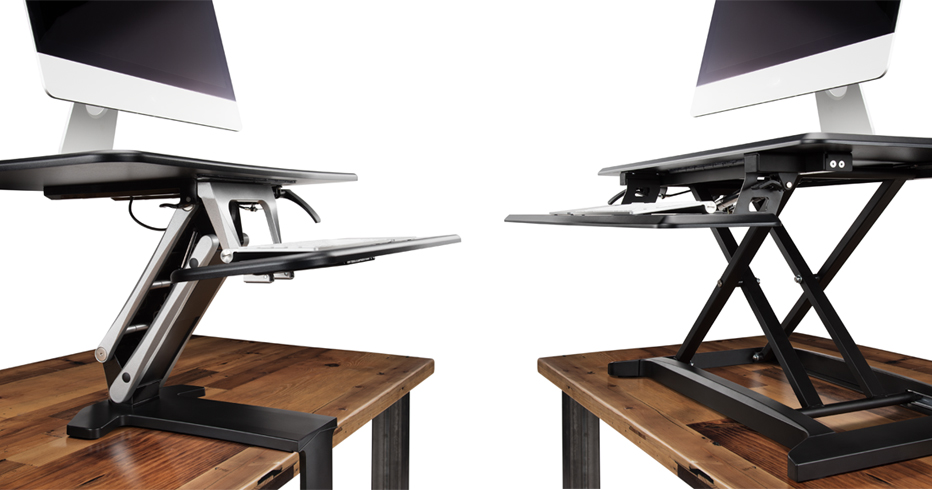 In the day and age of large open offices it's easy to forget that most small businesses starting out don't have the kind of capital for that kind of space. These businesses end up taking up residence in small office with limited space and in some cases, built in furniture. There's nothing worse than being stuck with a desk you hate just because it happened to be attached to the wall like a starving tick. Luckily this is the future and, while there may not be enough space or resources in your tiny office for a full desk upgrade, the standing desk converter is totally a thing.
If you haven't read our older blogs or visited our website, you're probably wondering what a standing desk converter is. Fortunately the people in charge of naming these things went with something simple. A standing desk converter essentially converts your old antique desk, cubicle attachment, or horrible office wall table into a height-adjustable sit to stand work station. It's the next best thing to having a full height-adjustable standing desk and is a perfect solution in situations where you either don't have space or have furniture that you can't get rid of for whatever reason.
We have a lot of standing desk converters on our site to choose from and the UPLIFT Adapt X and UPLIFT Standing Desk Converter (our original converter solution) have both been very popular since their respective releases. However improvements and small innovations can always be made which is why UPLIFT has now added the Front Clamp Desk Converter, XF Standing Desk Converter , and Lift Standing Desk Converter . What makes these so special? The answer lies in a few small innovations that make a big difference.
The Front Clamp Standing Desk Converter by UPLIFT Desk has what are probably the most noticeably different features. It's very similar to its older brother, the UPLIFT Standing Desk Converter but what you'll probably notice first is that the Front Clamp Converter has a clamp that clamps in the front. The name kind of gives this one away but there is a point to the design difference. While the UPLIFT Standing Desk Converter was available in either a clamp or a freestanding version, both versions had some inherent shortcomings. The freestanding version was able to fit a variety of worksurfaces with minimal assembly but the keyboard tray platform could only go as low as the desktop which is a pretty common design with most standing desk converters on the market. However, it's not ergonomically ideal because of the slight raise that the platform causes on the wrists when in the seated position. In that regard, the clamp mount version was the superior of the two, because its design allowed the keyboard tray platform to lower below the desktop surface. However there was more assembly involved with this one and because of the back clamp design, there was some extra adjustment needed when assembling. Basically the freestanding version was better about fitting a wider variety of surfaces while the clamp mound option was a bit better for the ergonomics.
The new Front Clamp Standing Desk Converter takes some of the better aspects of both of its predecessors and combines them into one new product. For starters the Front Clamp Converter maintains the tiered keyboard tray design but with a few improvements. The keyboard tray platform on the Front Clamp Converter hangs just slightly lower than the desktop. Not a huge amount mind you but enough to make a difference. That's not all though. The keyboard tray platform now also has the ability to adjust its angle of tilt. You can have the platform at a flat horizontal angle or, by simply adjusting the switches under the platform, the platform can be tilted at a 7 degree negative slope, giving you more comfort while you type should you need it. You can even fold the keyboard tray platform up to save space when you're not working.
There were also some more apparent changes to the clamp mount. As I mentioned before, the Front Clamp Standing Desk Converter now clamps in the front as opposed to the back of the desk. This has two advantages. One is that it allows the converter to fit more sizes of desktop. The other is that it eliminates some of the additional assembly and adjustment that went into setting up the older model. And while we're talking about improvements and new features, the UPLIFT Front Clamp Desk Converter has a new feature that none of the previous models had; color options. The UPLIFT Front Clamp Standing Desk Converter is available in your choice of black or white to fit whatever décor you happen to have. If you're one with certain needs regarding workspace, the Front Clamp Standing Desk Converter has a little flexibility in terms of size. For those trying to save as much space as possible there is a small size with a worksurface of 26.8"W x 20.5"D and for those who need the extra workspace, the Front Clamp Converter also comes in a medium size of 31.5"W x 20.5"D to accommodate your needs.
Now that we've sung the praises of the new UPLIFT Front Clamp, let's talk a little about its brother the UPLIFT XF Standing Desk Converter . This model isn't as dramatic of an improvement but it has plenty to offer. When you pull it out of the box you may notice that there are no tools and that most of the pieces are already put together for you. The reason for this is that the XF does not require tools to assemble and aside from the detachable keyboard tray platform, arrives ready to go out of the box which allows you to get to work right away! The XF also includes a choice of either black or white, again for your décor. Just because it's an office doesn't mean it has to be drab. You may also notice a couple of other aesthetic differences from the UPLIFT Adapt X including the fact that there is now only one release switch on the unit rather than two for easier adjustment. The lifting mechanism also now faces forward for a slightly different look. The unit still adjusts straight up and down, from sitting to standing, all within its original footprint. Best of all you now have a choice of either the small size which has a worksurface of 27.6"W x 19.7"D or the medium size which is 34.6" x 20.9"D to better fit your monitors or other workplace gadgets and stationery.
The Lift Standing Desk Converter is very similar to the classic UPLIFT Adapt X with the biggest difference being the size. The Adapt X sported a working surface area of 26.5" W x 13.4"D for the keyboard tray and 26.8" W x 23.1" D for the upper work surface where you monitor resides. The Lift Standing Desk Converter is a bit larger with a surface area of 34.5" W x 12.8" D for the keyboard tray and 35.1" W x 23.3" D for the upper work surface which gives you a bit more room for bigger monitors or even small knick-knacks. Both units operate using a pneumatic lift system and come with a 2 year warranty.
While we've improved upon the beloved UPLIFT Standing Converters, they're not the only products we've been working on. New chairs, new desk accessories, and new newness are all in the works and some of these new gadgets and office improvements are closer to realization than you'd think. In the meantime, if you ever have a specific question or just want to get a quote for a great price, you need only contact our amazing team at 800-531-3746.