Posted by Human Solution on Jul 26th 2016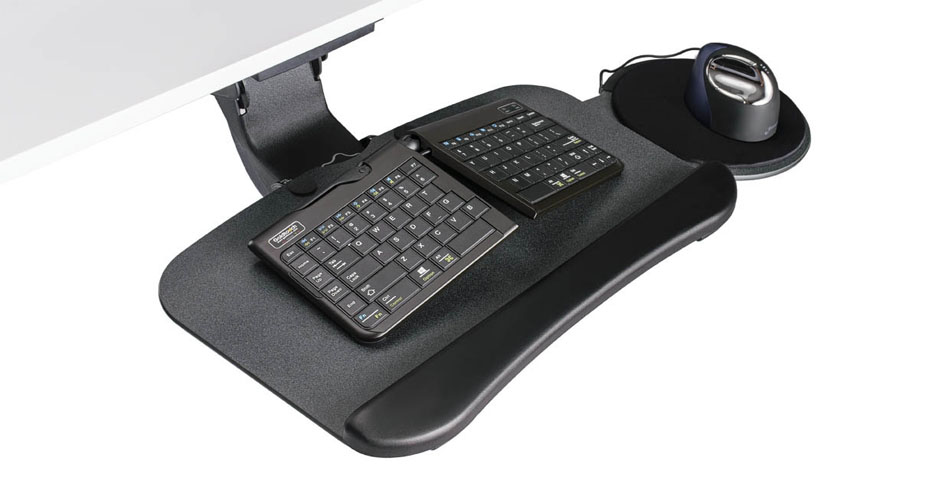 Are you a fan of our UPLIFT Large Keyboard Tray, but in need of something with a bit more customization for your mousing surface? For many users, the extra-wide 27" surface of that model provides more than enough space, but restricts the positioning of the mouse to being directly left or right of the keyboard. While convenient, it could leave a bit to be desired, especially if you prefer to have your mouse a bit closer or further away than the keyboard itself. If you're one of those people, you're in luck! Our new UPLIFT Switch Keyboard Tray brings back all the great features that make the UPLIFT Large Keyboard Tray a fantastic value, but also adds a unique ambidextrous mousing platform, perfect for fitting your keyboard and mouse to your specific ergonomic needs.
The UPLIFT Switch Keyboard Tray's ambidextrous mousing platform attaches to the bottom of the keyboard platform itself, allowing it to easily slide left or right as needed, as well as forward or backwards. This system not only lets you pick which side you want to keep your 9" mouse platform on, but lets you reposition it with ease as well. This makes the Switch an excellent option for communal workspaces such as shared office desks or family computers, where the keyboard tray needs to accommodate the ergonomic needs of multiple users with minimal effort.
Of course, the ergonomic features that have made the UPLIFT Large Keyboard Tray one of our most popular desk add-ons, such as an included wrist rest and mouse pad, are still present as well. The Switch tray includes both 11" and 21" tracks, allowing you to mount it to nearly any under-desk surface, and the super-thin phenolic surface offers plenty of knee clearance. The mechanism also features a wide range of height and angle adjustment, effortlessly moving from 5" below the track to 3" above it with a simple push, and providing up to a 20° negative tilt to minimize wrist strain.
If you're still working with your keyboard and mouse on the desktop, you've been missing out on a number of ergonomic benefits that could make your work day far more comfortable. Isn't it time to make the switch?
Learn more about ergonomic keyboard trays at HumanSolution.com.
Related Reads