Posted by Human Solution on Jun 6th 2016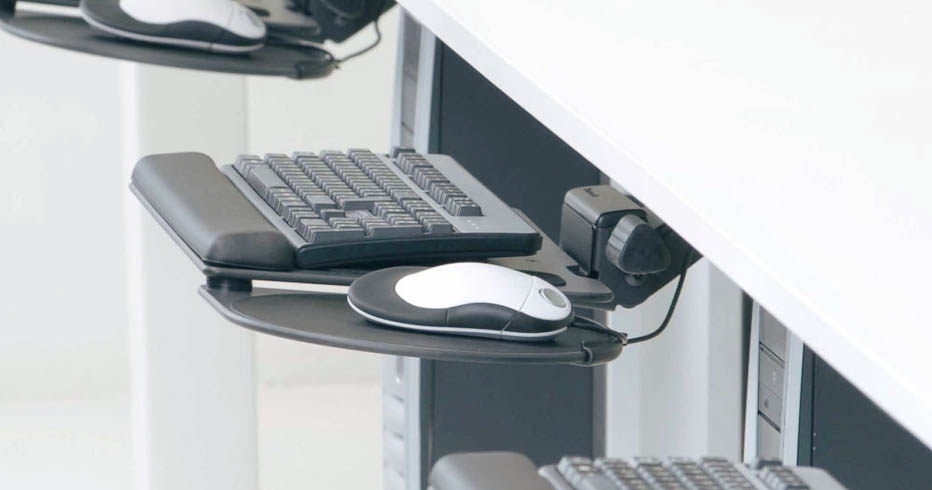 Selecting the correct Humanscale Keyboard Tray can seem like complicated business. There is an array of options. Mechanism? Track length? These mean nothing to the average person. Give us a call anytime at 800-531-3746 and we can guide you through the process. But just in case you prefer to figure this out on your own, here's a quick primer.
Humanscale Keyboard Tray Systems are comprised of three distinct parts. The "Track," the "Mechanism" and the "Tray."
Track:
The track is the part that mounts underneath your desk. The track requires an uninterrupted length of solid wood, laminate or particle board under your desk into which you will mount the screws. (This means no lip, no crossbar, no glass countertops.) The track can be ordered in lengths ranging from 11'' to 27''. When measuring your desk, make sure to add about 1'' to 1 1/2'' of leeway to your measurement. For example, if you have 14'' of uninterrupted space, we recommend the 11'' track as opposed to the 14'' track. Why would someone want a longer track instead of a shorter one? The answer is that you will need a 22'' track in order to fully stow away your keyboard tray. With a longer track, you will be able to stow your keyboard tray even further under your desk. With a shorter track, the tray will protrude slightly, which is really not a big deal. For reference: a person with a small 48" x 30" desk with a large crossbar underneath would probably want to use an 11'' track.
Mechanism:
The mechanism is an easy call. It may seem like there are a few choices but we recommend the 6G mechanism to almost everyone because it offers the widest range of adjustments and doesn't cost more than any of the others. The 6G and 5G are essentially the same; 6G has about 1'' of additional adjustability and is slimmer in design. (Really, there isn't any reason to consider the 4G or the 2G unless your company or agency requires that mechanism). If, however, you would like your mechanism to bring your keyboard tray further above your desk, you should think about getting an AD ("above desk") or 4GAD mechanism.
Tray:
The final component is the tray. Humanscale trays are identified by a three-digit number. For example, when we recommend the Humanscale 900 Keyboard Tray System, the 900 refers to the rectangular shape and dimensions (19'' W x 10.625'' D). This 900 tray and the Humanscale 500 Keyboard Tray are our two most popular options because they work for most workstation setups, but there are a variety of others. If you have a non-standard desk setup or you aren't thrilled about either of these options, we're happy to discuss and help you decide on another.
Even with this rundown, some may still find themselves a bit overwhelmed with choosing options for such a highly configurable keyboard tray option. For those people, we recommend having a look at the UPLIFT Large Keyboard Tray and the UPLIFT Switch Keyboard Tray. Both offer the same quality as the Humanscale keyboard trays but are each available in one standard configuration which can save some people a bit of anxiety in the keyboard tray purchasing process.
Got a question for the ergonomic experts at Human Solution? Email us. We'll answer your question directly, and we might even answer it in a blog post.