Posted by Tyler Reinhardt on Jul 5th 2017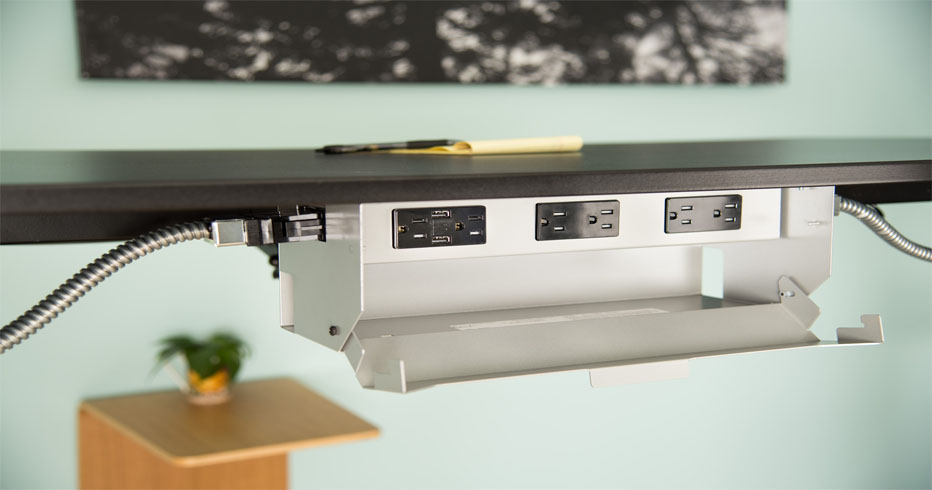 Everyone's all about collaboration these days with a few exceptions. No need to get into those, this isn't that kind of blog. But something this new focus has led to is the rise of the "open office" model. No cubicles, no walls, just a large room full of people who can freely communicate with each other sans the interference of intraoffice barriers. The idea behind open office layouts is this: when employees can communicate freely and efficiently, productivity increases. So how does one furnish such a setup? Well, it being an office, you'll probably want some desks, which we have. The only thing is, if you have a really large office you'll probably want a lot of desks. Each of those desks has to plug into a power source. So how do you power a large number of desks with a very not large number of wall outlets? UPLIFT now has just the thing.

The UPLIFT Desk Power & Data Link makes having an uplifting workplace that much easier. This simplifying accessory allows you to "daisy chain" your desks together without creating a mess of cords. The main power system is installed on the first desk and then from that point, a looping cable will deliver power to all of the connected units in the group. This means that with a 4-circuit wall plug you can connect up to 16 desks without having to bother with surge protectors and unruly wires.

The Power & Data Link system starts in the $400 range per desk, but for a more accurate quote on the pricing, all you need to do is send your office layout to us and we'll get you a quote and a custom electrical system design asap. You can find the contact form for this little innovation on our site, but if you need any assistance getting all of your information submitted, don't hesitate to give our customer service professionals a call at 800-531-3746.