Posted by Human Solution on Feb 11th 2017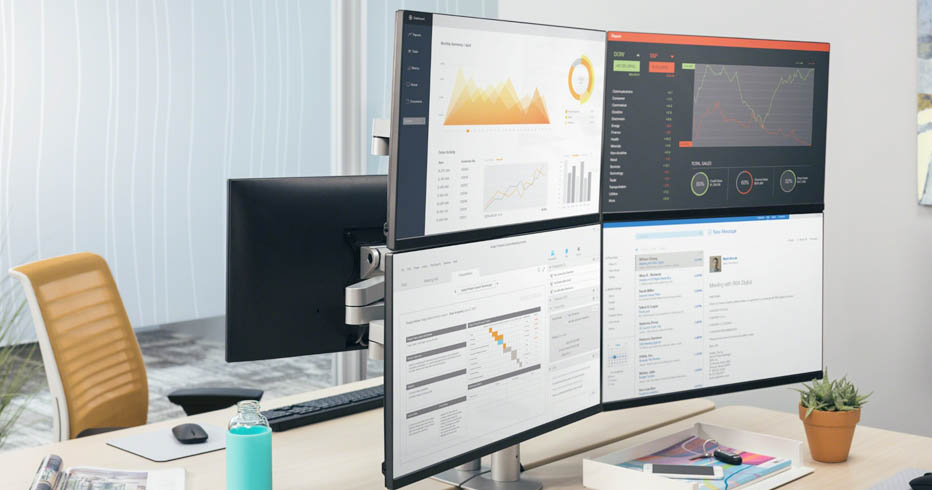 Here at Human Solution, we have a multitude of workstation components that will help you work comfortably and productively, with the added benefit of making your coworkers jealous. If you outfit your workspace with our Top 5 Workstation Items, they'll think they've walked into some sort of futuristic wonderland where people actually enjoy going to work! Or that you've cozied up to corporate and they've lavished you with the kind of workstation only a CEO would have. These additions are surprisingly affordable, though, and they not only look cool but will have you feeling a lot more comfortable and healthier at work.
1. Height Adjustable Desk – As we've been telling you this for years, periodically standing will greatly improve your life, and may even fight off an early death. But pushing a button and making your desk go up and down looks really cool too! If you don't do it for the proven health benefits, then do it to make the whole office go "What's that?" when the gentle hum of your electric standing desk piques their curiosity.
2. Real Wood Desktop – You're starting to see sit-to-stand desks more and more, but for most of them the desktop itself is a functional afterthought. Make the guy next to you who already has his own height adjustable desk jealous of yours by adding a real wood top.
3. Desk Treadmill – While the rest of your coworkers are struggling at the end of the day to finish up in order to rush to the gym, bring the gym to you by adding a workstation treadmill. Using one at a deliberate pace will still allow you to get your work done and burn calories in the process. Why get a gym membership when you can work out on the company dime?
4. LED Task Light – Task lights like the Humanscale Horizon have an incredibly long lifespan, save energy, and provide adjustable, spot-specific illumination for desktop tasks. But it's the streamlined, modern design that will really stand out. I suggest leaving it on at night when the office is closed (its nightlight capabilities use just a single watt). Whoever opens up the next day will be naturally drawn to your seemingly wasteful act while simultaneously being super envious of its source.
5. Multiple Monitor Arms – An adjustable mount for your multiple monitor setup clears up desk space (making it easier to see your real wood desktop and your neato task light) and puts your monitors at the proper level to prevent strain as well. We have solutions for you whether you need to mount two monitors or as many as 16. Feel free to turn your modest accountant's desk into NASA mission control and make all those fancy web designers with their multiple monitor jealous of your station.
Find all kinds of ergonomic workstation accessories to make your envious coworkers resent you at TheHumanSolution.com.