Posted by Human Solution on Feb 25th 2014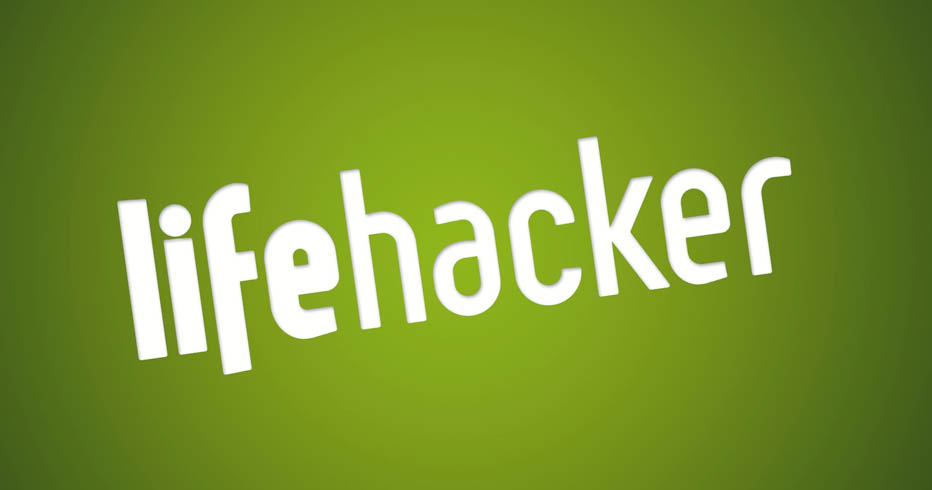 Lifehacker recently asked its blog readers a simple question: What is the best standing desk? What a great question to ask, with a market full of options that range in affordability and features, from full electric sit-to-stand desks, to pneumatic standing desks, to standing workstations intended to sit on top of an existing fixed-height desk. Lifehacker took reader nominations on the desks, and we were happy to see the UPLIFT 900 Sit-Stand Ergonomic Desk (Frame) nominated as one of the top choices.
Well, the fun didn't stop there. Lifehacker then took the five best standing desk nominations and put them to a vote. The UPLIFT 900 was a popular choice, gaining the most votes for an actual standing desk, behind the DIY and a conversion unit. Check out the results of the best standing desk poll in the image above.
Lifehacker is known for providing readers with life "hacks," or productivity tips or tricks - basically, any interesting or non-obvious way to solve a problem or save time. It's no surprise that the DIY desk would take top honors, considering the do-it-yourself ethos of Lifehacker. After the DIY option, the UpLift 900 standing desk frame finished neck-and-neck with only one other solution – a conversion unit designed to turn a traditional or fixed height desk into a desk with standing capabilities.
All of the top standing desks that were included in this reader poll are good solutions to encourage movement and combat against an inactive, sedentary workday. But, if you want to hear it straight from the horse's mouth, the Lifehacker review of the UpLift 900 height-adjustable standing desk reads as follows: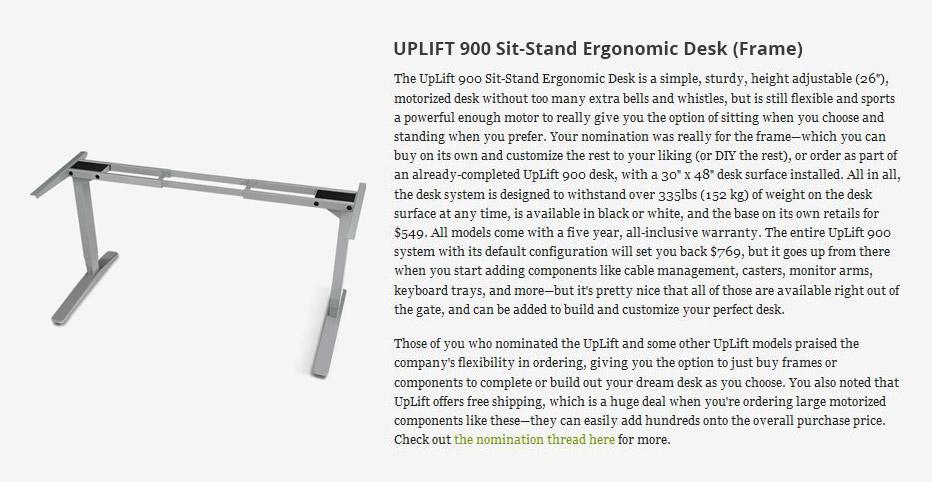 The UPLIFT 900 "stands" out not only because of the low price point (which we have lowered further since the Lifehacker review), but also because of its versatility. Buying just the frame only essentially makes this option a DIY standing desk. You can save money by using a pre-existing desktop, purchasing your own top, or even making one!
We have countless customers that have ordered an adjustable-height desk base on its own who then procure or construct their own desktop. Whether their desktop is from reclaimed beach wood, woods local to the customer's geographical area, or even just using an antique wooden door, the option to just purchase the UPLIFT 900 frame gives you the freedom to make almost any height-adjustable workstation you can dream up.
The UpLift 900 has a 355 pound lifting capacity and a telescoping width design, so the possibilities are endless. You can truly build your dream desk from scratch, using the UPLIFT base as the easel on which to paint your masterpiece; a sit-to-stand workstation that reflects you, and how much more creative, engaged and focused you'll be once you're up and out of your seat. You'll also be secure in the knowledge that your desk has your best interests in mind, encouraging movement throughout the day as well as your overall well-being. All in all, it was an incredible UPLIFT 900 review.
If the five best standing desks aren't enough for you, visit TheHumanSolution.com to see all the adjustable-height standing desks that we offer.