Posted by Will Moore on Apr 23rd 2015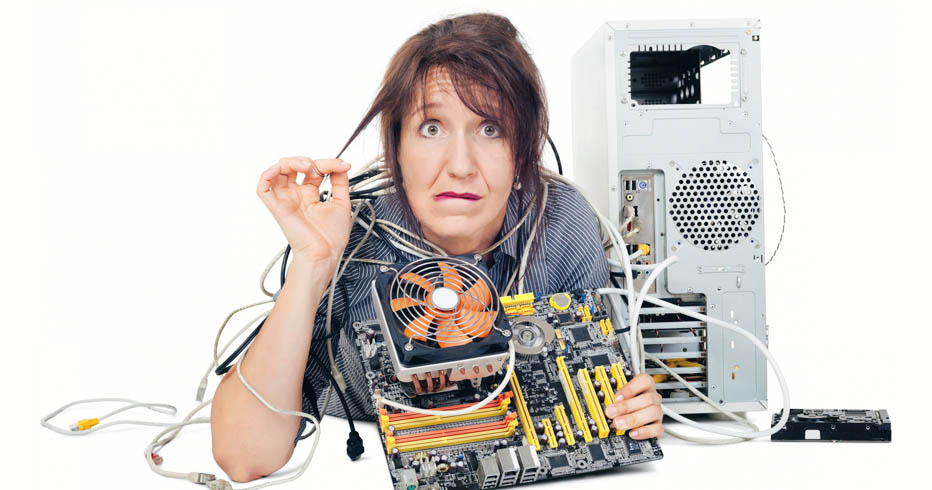 At Human Solution, we have plenty of accessories to make your height adjustable sit-to-stand desk even more ergonomic – keyboard trays, monitor arms, ergonomic keyboards and mice, etc. We also have accessories to make them more functional, like a CPU holder that raises your tower up along with the desk, ensuring that everything you have plugged into it doesn't become entangled and pulled out when you adjust the desk to a standing position. You are now taken care of both ergonomically and functionally, but what about aesthetically?
Unless you have a completely wireless setup, all of those accessories come with a big mess of wires, especially if you throw in dual monitors, backup hard drives, speakers or a phone line. If you've gotten one of our beautiful UPLIFT real wood top height-adjustable desks, then obviously the look of your workstation matters as much to you as its ergonomics. But even if yours isn't a Mesquite Top UPLIFT 800, you still probably don't want unsightly wires cluttering up your worksurface. Luckily, we offer a few easy and affordable solutions to make your cluster of wires more manageable.
Humanscale offers NeatLinks Desk Cable Organizers, which are simple and unobtrusive thermoplastic troughs that can be installed almost any way you want on practically any surface by either double-sided mounting tape or screws. They come in a variety of colors and sizes, and can be mounted to the underside of your desk, the desk base, or even along the wall under your desk to get your wires hidden away quickly and efficiently.
Steelcase's Details brand offers a slightly different kind of cable management solution called the Vertical Cable Manager, which consists of a flexible 52" spine with two channels for wires and a mounting bracket to affix to the underside of your desk. This solution is a great way to get several wires in one large bundle, cleaning up both the visible area on top of your desk as well as the tangle of wires that can live below your desk.
While these products are perfect for cleaning up an assortment of wires, maybe you just want to get rid of the two wires that probably run right down the middle of your desk to the back – your keyboard and mouse. A good solution for this problem is a keyboard tray like our Humanscale 900 Keyboard Tray. Not only will this clear up some space on your desk, but it will also help get your keyboard and mouse into a more ergonomic position in your lap when your height adjustable desk is at sitting height.
So whether you want to clean up your desktop to more prominently display that World's Greatest Dad mug (and really, who's going to believe you when it's surrounded by a bundle of unsightly wires), or you want to keep that tangled mess under your desk from getting a hold of your ankles (which will be useful when your computer becomes sentient on Judgment Day and attacks – which it will), Human Solution has, well, the solution. For any other tips on how to make your workstation less unsightly and more efficient, feel free to contact us at info@humansolution.com, give us a call at 800-531-3746, or contact us in live chat and we will be happy to help you get set up.