Posted by Mandy Spivey on Oct 25th 2018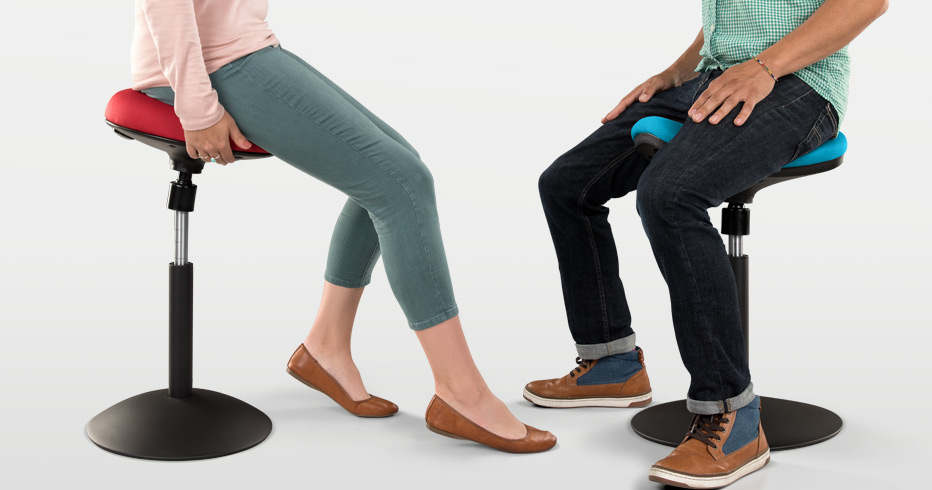 When you think about office seating, what comes to mind? The right ergonomic stool allows you to engage in movements that feel good and are beneficial for your body, bringing you to an entire new type of seating experience at work. You might be a fan of your full lumbar-supporting chair now, but have you tried perching? The perfect combination of standing and sitting, perching allows you to give your legs and feet a rest while burning off a little extra energy by moving on the seat. Improve circulation, activate more muscles, and expend restless energy with UPLIFT Desk's E3 Crescent Saddle Stool and E3 Donut Stool - coming soon!
Fans of the ergonomic brand might already know about the Motion Stool, which is an ideal seating solution for users who seek the most varied and dynamic movement from an active stool. Its uniquely-rounded bottom lets the stool tilt and move from the base, allowing users to perch at the maximum tilt angle. Or, if you're looking for a portable stool that doesn't tilt as much, the E7 Stool will get you there via gentle movements. Its super stable base keeps the stool upright and a handle on the back allows for easy portability. And now we have two new active seating options to add to the UPLIFT Desk family of seating - the E3 Crescent Saddle Stool and E3 Donut Stool, which offer a little different motion than their perch-able predecessors.
E3 Crescent Saddle Stool - Straddle the Saddle (or Perch, if You'd Rather)
Sit down on the crescent-shaped plush seat on the E3 Crescent Saddle Stool in either traditional or straddled postures, and feel what it's like to have more freedom to pick your posture than ever before. The 360 degree rotating seat swivels to two different positions, which allows you to switch postures more than other stools will allow for. Also, movement is generated from the seat and not the base on this stool, so the movement is more side-to-side, perfect for hip-swaying to the latest song you're jamming out to.
But what about fabric? The E3's soft, textured mesh fabric on the seat improves airflow to your behind and works to keep it on the seat when perching. Weighing in at fewer than 12 lbs, it's perfectly portable to new locations at work or at home. Pick from several vibrant color options to add a touch of color to your space.
E3 Donut Stool - Supporting Tailbones and Fostering Collaboration Everywhere
For a more plushly-upholstered stool, take a spin on the E3 Donut Stool. Its seat boasts rounded edges that take pressure off your legs when you're sitting or perched, which helps you maintain optimal blood flow. The perfect side seat to your usual office chair, you'll also get 360 degree motion in all directions thanks to its swiveling seat, making collaboration seamless as you direct you attention (and your body) toward your conversing coworkers.
Then there's the upholstery. Textured mesh fabric increases friction when tilting at an angle, so you don't have to worry about falling off the seat. The wide base makes it super stable on the floor, which keeps it upright when you're tilting on it, so you don't have to worry about tip-overs. It's easily portable to new locations, too, just pick it up by the seat and move it around the office where you need it.
From full office chairs to motion-assisting active stools, Human Solution is your ergonomic superstore for supportive and active seating. Check back soon to see what chairs and stools we have in store for your ever-changing workspace and needs, and read more about the ergonomic products we love on the Human Solution blog!