Posted by Human Solution on Nov 3rd 2014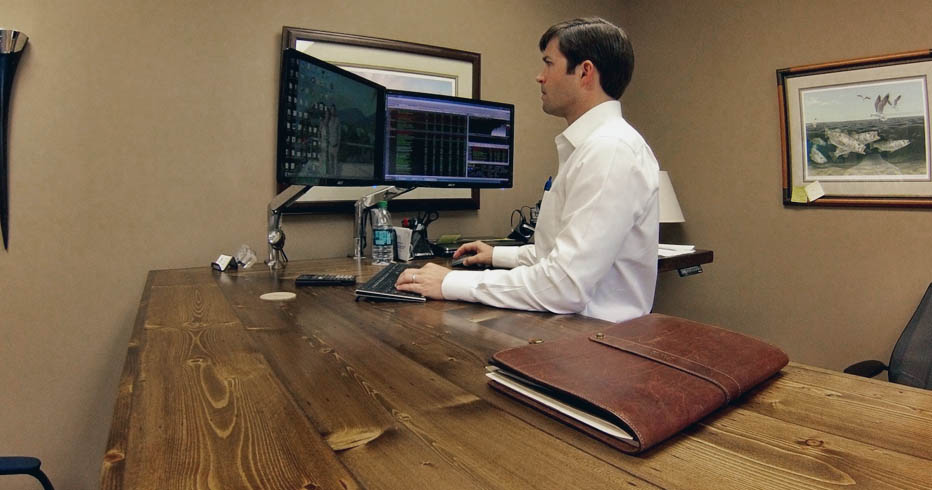 While our UPLIFT 950 Height-Adjustable L-Shaped Solid Wood Desks have always been among the most popular of our solid wood options, sometimes matching your existing office furniture calls for a bit of a personal touch. By using one of our ready-to-install UPLIFT 950 desk bases, a pair of Innovative EVO II Monitor Arms, and a bit of help from a local furniture maker, Patrick Bussey created this jaw-dropping custom pine sit-stand desk that's both beautiful and ergonomic. When asked about his new desk, Patrick had this to say:
"I have been admiring stand up desks for a couple of years. I knew the benefits to my posture and pain in shoulders and back could be greatly helped with some standing. I decided on the UPLIFT 950 desk, since I have always had an L shaped desk and really liked the space it gave. [...] When I saw the finished product, I was blown away. [...] The EVO II arms also have worked great. After one week, I can say I am completely thrilled with the decision to buy the UPLIFT and get the wood top. I have only had it 2 weeks, but find myself standing 70% of my day. I love how the desk looks both standing and in the seated position. In fact, a client came in last week and I had the desk in the seated position and he immediately commented how beautiful my desk was. I then turned and hit the up button to raise the desk up and I am pretty sure he decided at that moment that he wanted one. Truly been a great purchase and a great experience."
Feeling similarly inspired? We offer all of our UPLIFT desks in base-only configurations, creating the perfect starting point for your own custom sit-stand solution. Of course, we also offer our desks with solid wood tops, all professionally made using sustainable materials and built by local woodworkers, allowing you to simply set up your new UPLIFT desk and enjoy it, no cutting, sanding, or finishing required!
Ready to add a bit of natural beauty to your office? Learn more about UPLIFT Solid Wood Adjustable Height Desks and Desk Bases at TheHumanSolution.com.