Posted by Human Solution on Sep 30th 2015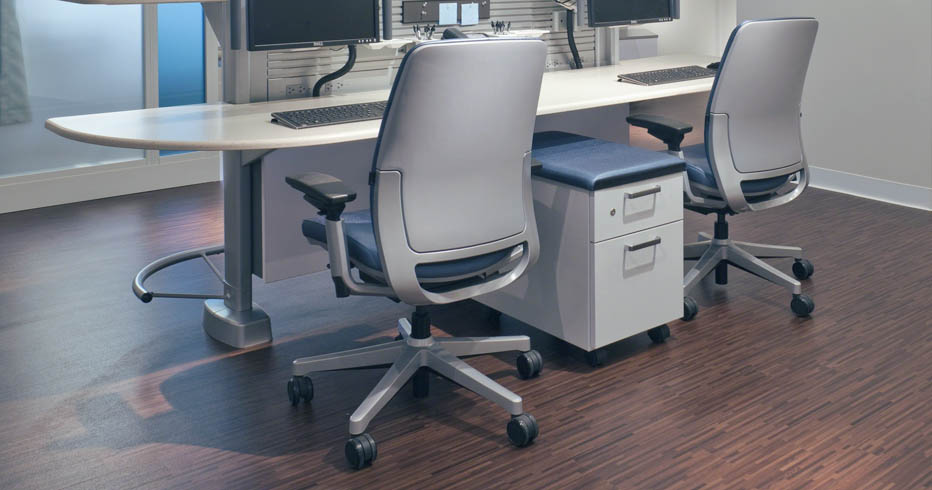 Most office chairs are designed to accommodate people within the 5th to 95th height percentile. This range covers the 5th percentile female at 60.2 inches to the 95th percentile male at 73.6 inches. This range means that ergonomic chairs are designed to fit 95% of the total population. So where do people outside of this range sit?
The truth is very few people outside of this range have ever given it a second thought. They've just become accustomed to being uncomfortable. If you fall into this category, rest assured you're not alone. We talk to people like you every day, and it turns out there are a number of fantastic options.
Shorter People
Five feet tall is the general point of reference for people at or below the 5th percentile. Because of variability in factors such as leg length or how much a chair cushion compresses, the five foot mark is a relative number. If you are near five feet tall, either taller or shorter, here are a few measurements to keep in mind.
Find a chair with a seat height of at least 15 inches. This is a bit lower than most chair standards, so look for chairs with "short cylinder" options.
Don't forget about seat depth. This measures the length of the seat from the backrest to the front of the seat. 5th percentile women should look for a seat depth around 15 to 16 inches. Chairs with a "seat slider" option are often best because you can adjust the seat depth to fit your personal dimensions exactly.
Our Recommendations
For people near the five foot mark, we are pretty big fans of the Steelcase Amia chair. It has a great seat slider, allows for a relatively low seat height and has widely adjustable arms. My 5'1" wife can easily adjust this chair to fit her needs.
Need a smaller chair? Checkout the Neutral Posture XSM. The narrow seat and short cylinder options have been a great fit for some of our shortest customers.
Finally, if you still find your chair is a bit too high, consider a foot stool. It is important that your feet are supported so that pressure from the front of the seat does not constrict blood circulation to your lower legs.
Taller People
People standing around 6'2" or taller are considered to be outside the 95th percentile. If you fall in this height demographic, you likely face the same issues as people who fall at or below the 5th percentile discussed above, but the measurements are reversed. Here are some tips to help.
Often the highest adjustment of average chairs will still be too short for you. A chair that is too low will increase the weight on the ischial tuberosities (sitz bone or sitting bones). Look for chairs with a seat height of at least 19 to 20 inches.
Seat depth seem like a novel idea for tall people. Most of you are used to your knees extending well beyond the seat edge. Look for chairs with a seat depth (the length from the seat edge to chair back) of at least 20 inches.
Our Recommendations
My office mate stands at 6'4" and won't sit in anything except our Nightingale CXO. The CXO is a standard chair that just happens to have a maximum seat depth of 21 inches. This is a great chair for people near the 6'2" 95th percentile mark.
For even taller people, Bodybilt makes a "stretch" chair called the Bodybilt 3509 (or the 2509 if you don't want a headrest). This chair features a whopping 23 inches of seat depth and is available in a special "tall" chair cylinder that gives a seat height adjustment range of 21.5 of 29 inches.
Wrap Up
Ultimately there is a chair to fit any body. If you're just getting started, checkout our petite chairs and tall chairs. Even better, give us a call. We love helping people learn how to be comfortable.

Find the products that are just right for you at TheHumanSolution.com.